Casper the Kitchen
Getting ghosted by our kitchens, beating Covid in Ecuador, Zoox + Amazon
Hi everyone, John here. I am writing to you from Texas this time. My trip to LA was successful and I can't wait to move there in the first week of August. One housekeeping thing: once I move and am on the West Coast full-time, this newsletter will come a little later on Thursday mornings. I plan to send it between 8:30-10:30 AM ET every Thursday.
Before I dive into this week's Long Thing, I'm excited to announce next week's edition will be Urban Tech's first Q&A interview. I'll be speaking with Alex Nicoll, a reporter at Business Insider who covers real estate. I've had the fortune of getting to work with Alex during my time as a PR person and love hearing his thoughts on what's happening in the space. I think you'll enjoy the conversation! I recommend checking out his coverage — you'll learn something for sure.
Finally, please continue to share Urban Tech with folks you think would benefit from learning about cities and tech. If this email was forwarded to you, you can subscribe here. Let's dive in.
A Long Thing: Are we destined to be ghosted by our kitchens?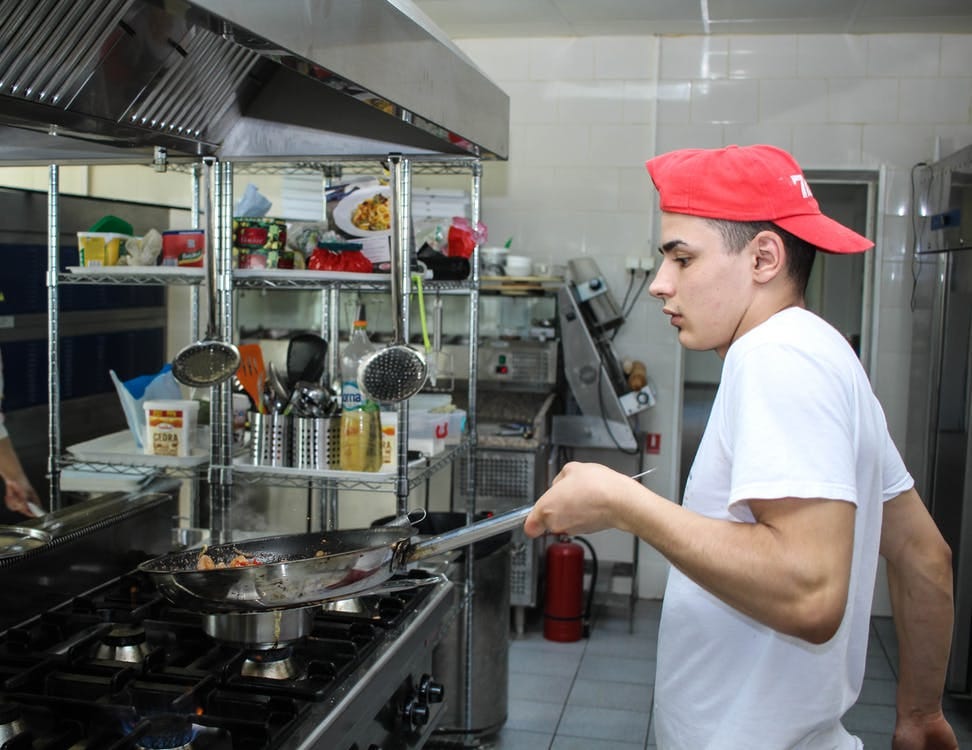 Even before Coronavirus, the restaurant and food industries globally experienced significant shifts as a result of technology. The last decade has been filled with change for restaurants, from food delivery apps, the instagramification of menus, review sites, reservation apps, and logistics and planning apps. Simultaneously, food as a culture has never been more omnipresent. Our preferences and the kinds of things we eat are significant parts of our identities.
One of my favorite tech writers Anna Wiener at The New Yorker explored the crazy world of ghost / cloud kitchens. Essentially, cloud kitchens as I'll refer to them are shared kitchen spaces that are designed for delivery or take out. Some "restaurants" even only exist on delivery apps. Notably, the former CEO of Uber, Travis Kalanick, founded the largest cloud kitchens player.
From Anna's piece on a cloud kitchen location she visited in San Francisco:
"The trailer, along with a few others in San Francisco, is operated by Reef Technology, a startup based in Miami. According to marketing materials, Reef creates "thriving hubs for the on-demand economy" by "reimagining the common parking lot." By bringing in utilities like electricity, gas, and water, and setting up "proprietary containers," the company hopes to turn parking lots into reconfigurable community hubs. Lots might be "formatted" to include mobile kitchens, beer gardens, retail pop-ups, vertical farms, auto-body shops, medical services, rental stations for electric vehicles, and so on. "We have these pods, which arguably are not pretty, but they're functional. They can support any kind of application," Ari Ojalvo, the C.E.O. of Reef, told me. "If you want to put a grocery store in there, put a grocery store in there. Laundry, put laundry." Ojalvo compares his company to Apple: just as the App Store allows developers to create and sell iOS-based tools and services, so Reef provides infrastructure for parking-based businesses. "Apple uses connectivity as a platform; we use proximity as a platform. We allow third-party applications to stand on this proximity platform and get closer to consumers," he said."
I think unlocking real estate and flexibility in space is a powerful thing, and I think residential and commercial models continue to shift that way. I disagree, though, with the comparison of physical space to software. I don't believe scaling real estate is as easy as copying software code. It's also costly to scale, which is why companies in real estate need to keep raising funds to acquire or lease more space.
Cloud kitchens is an example of a trend I hope to cover multiple times for Urban Tech. I had the fortune of connecting with the team at Zuul, an NYC cloud kitchen with customers like Sweet Green. I was particularly interested in learning how COVID was impacting things. Here is the conversation:
How many spaces do you have and In what cities? 1 space in New York City with 9 kitchens.
How big are your spaces square feet wise? Around 5000 sq ft total, with kitchens ranging around 160 - 250 sq ft each.
How many workers are typically in a space? Varies by brand, average 2 - 3 in each kitchen plus 3-6 Zuul staff running operational support in the shared spaces (dishwashing, food running, expo, etc..)
How is social distancing impacting layouts and plans? We have adjusted our expo set-up to prevent couriers from congregating indoors and rearranged the shelving area to promote social distancing. Social distancing is not possible in all areas of the space, so we take added precaution with mandatory masks, health checks, temperature scans, and staggering of employee time in shared spaces among other measures.
How does permitting and code inspection work with this model? How does a health inspector pass a location used by multiple restaurants etc.? Zuul is currently licensed as an H26, Non-Retail Food Processing Establishment or commissary. The DOH inspects Zuul under the same criteria as any H25 Retail Food Establishment, but does not issue a letter grade directly to Zuul.
Each of the 9 kitchens within the Zuul space are also subject to DOH inspection and receive independent letter grades. All Zuul members have received A grades on their recent inspections and Zuulpublicly displays these grades in each kitchen window, on the facility window, and Zuul's digital marketplace.
+++
Flexibility in infrastructure in urban spaces is a powerful force not only for restaurants. Companies, including Amazon, Prologis and other logistics firms, are buying up and leasing spaces less than 15,000 square feet to become fulfillment centers in high demand areas. They are trying to solve the last mile problem by creating these hubs as close to their customers as possible. This is how Amazon is able to offer same-day and one-day shipping.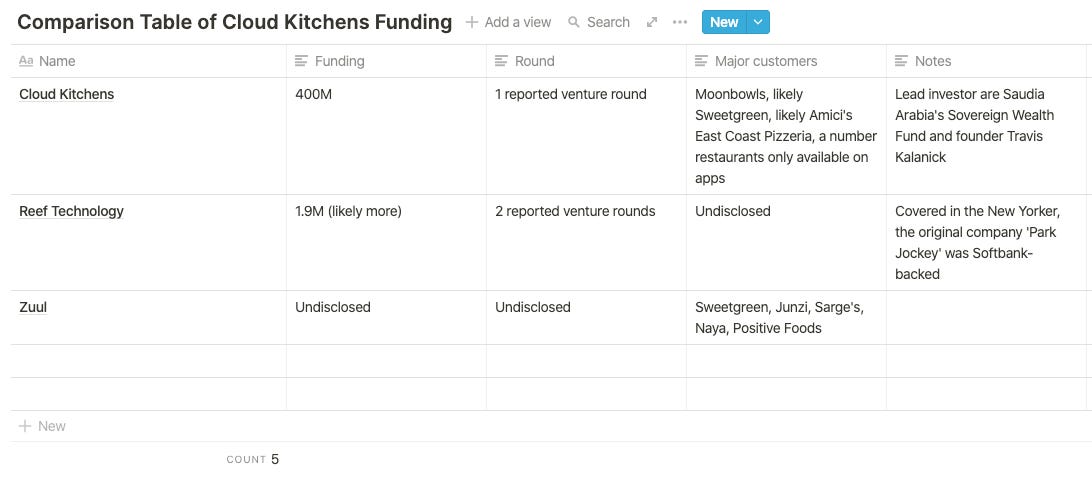 Data from Crunchbase
A Medium Thing: An Ecuador City Provides a Strategy for the Developing World to beat COVID.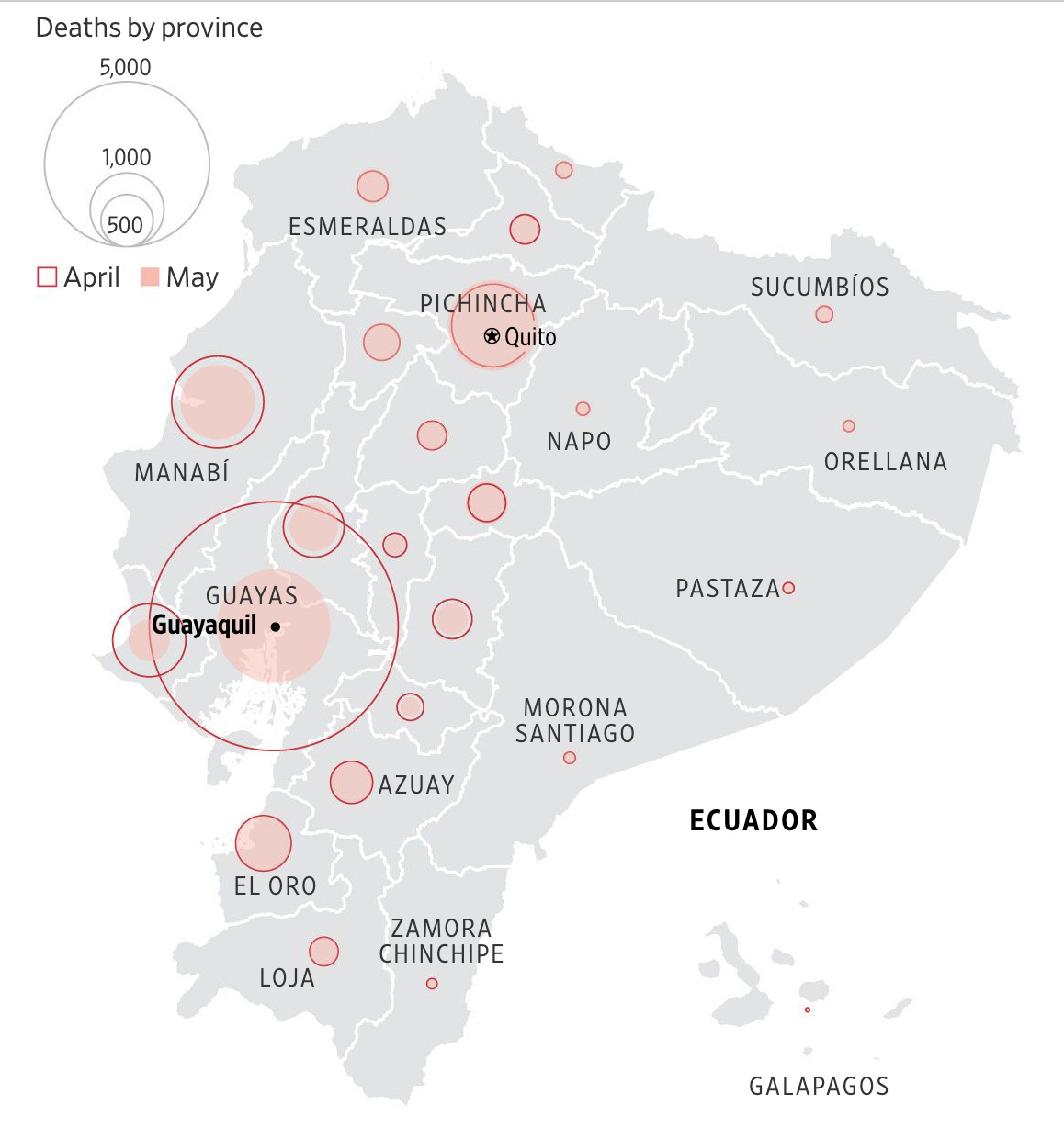 "From a city that made gruesome headlines around the world, Guayaquil is now a success story. On April 4, at the height of the pandemic, 778 people died in Guayas, the province where Guayaquil is located, about 10 times the province's normal daily death rate. In June, the province had about 60 deaths a day, with just a handful attributed to Covid-19, according to local officials."
This story is a perfect example of how technology can profoundly affect positively on cities and their citizens. The developing world and the Global South are incredibly vulnerable to the virus due to close living and less adequate health systems. It gives me a lot of hope though that this city figured it out, and I hope others, even those in the developed world, will take note.
What I'm Reading
New York Times: Pandemic Threatens to Upend a Thriving Real Estate Model
The New York Times' Tom Acitelli wrote a great story on how Coronavirus impacts mixed-use developments in major urban centers. Mixed-use development has been a significant theme for urban revival over the last several decades.

These projects, which include, office space, residential apartments, and retail, are also a significant part of making cities more walkable.

While I certainly think these projects will be impacted in the near term, the time horizon for developers and investors on these projects is much longer than a couple of years.
The Wall Street Journal: Uber in Talks to Buy Postmates for About $2.6 Billion
Since Uber's deal to buy Grubhub fell through, the company is now in discussions to buy Postmates for $2.6 billion.

I think this would be a significant win for the Postmates team, which has delayed an IPO over the last couple of years. Food delivery is a competitive market to make money.
Engadget: Hyperloop One and DP World launch a cargo-only shipping business
"Virgin Hyperloop One and DP World have announced the launch of a new company that will push the technology into the cargo industry. DP World Cargospeed is a new project that will see the pair look to build Hyperloop-enabled cargo systems to transport 'palletized cargo.' "

I think this is an interesting approach for a hyperloop concept and more realistic than people moving around cities with them.

But, there will need to be major infrastructure investments that I don't see happening right now. I think vertical models, like drones, have a better shot just because of this.
CNBC: Lululemon to acquire at-home fitness company Mirror for $500 million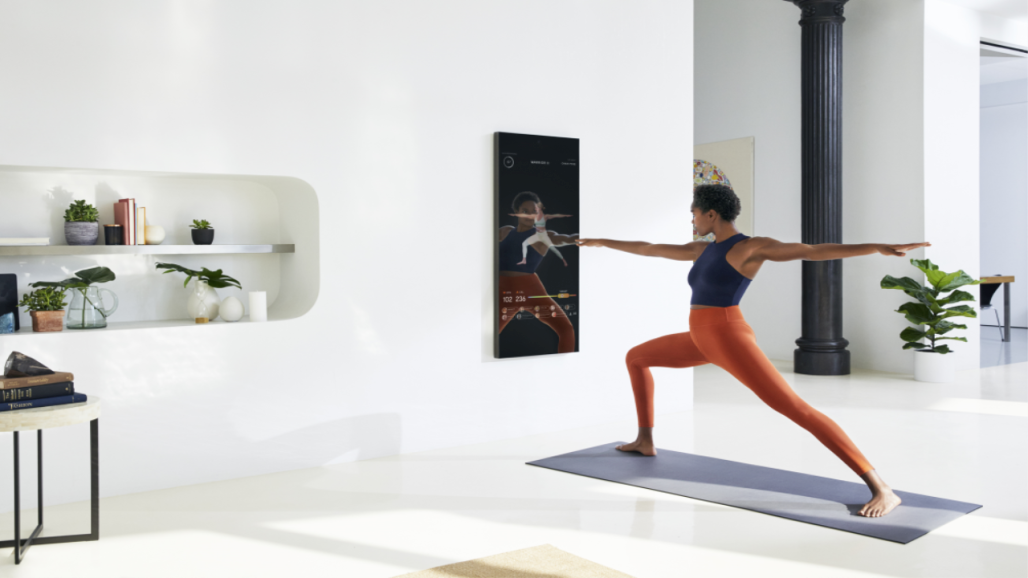 Home fitness has certainly experienced an upswing during Coronavirus. News this week that Lululemon is acquiring home fitness startup mirror continues the trend.

Peloton is another company that is doing well since people are hesitant to return to the gym.
SmartCar: Smartcar and EVPassport by Recharge partner to simplify EV charging
"Smartcar is partnering with EV charging startup Recharge to provide the first seamless, unlimited fast-charging experience across 2,500 DC fast chargers in the United States"

The model is a subscription and aims to connect the consistently fragmented charging infrastructure network. The comparison I saw online was "a ClassPass for EV charging".
Forbes: Getting Value Out Of Zoox
The deal is done: Last week, Amazon agreed to acquire self-driving car company Zoox. I wrote about the rumors and what they could mean in my first edition, which you can read, here.

The Information reports Amazon paid ~$1 billion for the 1000-person Zoox team.

My take:

Amazon is acquiring Zoox to bolster this main business, not to launch a consumer autonomous car service. Adding autonomous vehicles to their delivery fleet and their internal logistics process for moving inventory between sites in the middle could prove extremely beneficial. Not to mention, we are currently in a global pandemic where the distance between people is encouraged.

I also think Amazon can drastically reduce the expenses of Zoox since they own AWS and Bezos owns an aerospace company. Cloud computing and materials sourcing are costly.