The Instagramification of Cities
How Instagram changed our cities forever, Google gets more space, AV testing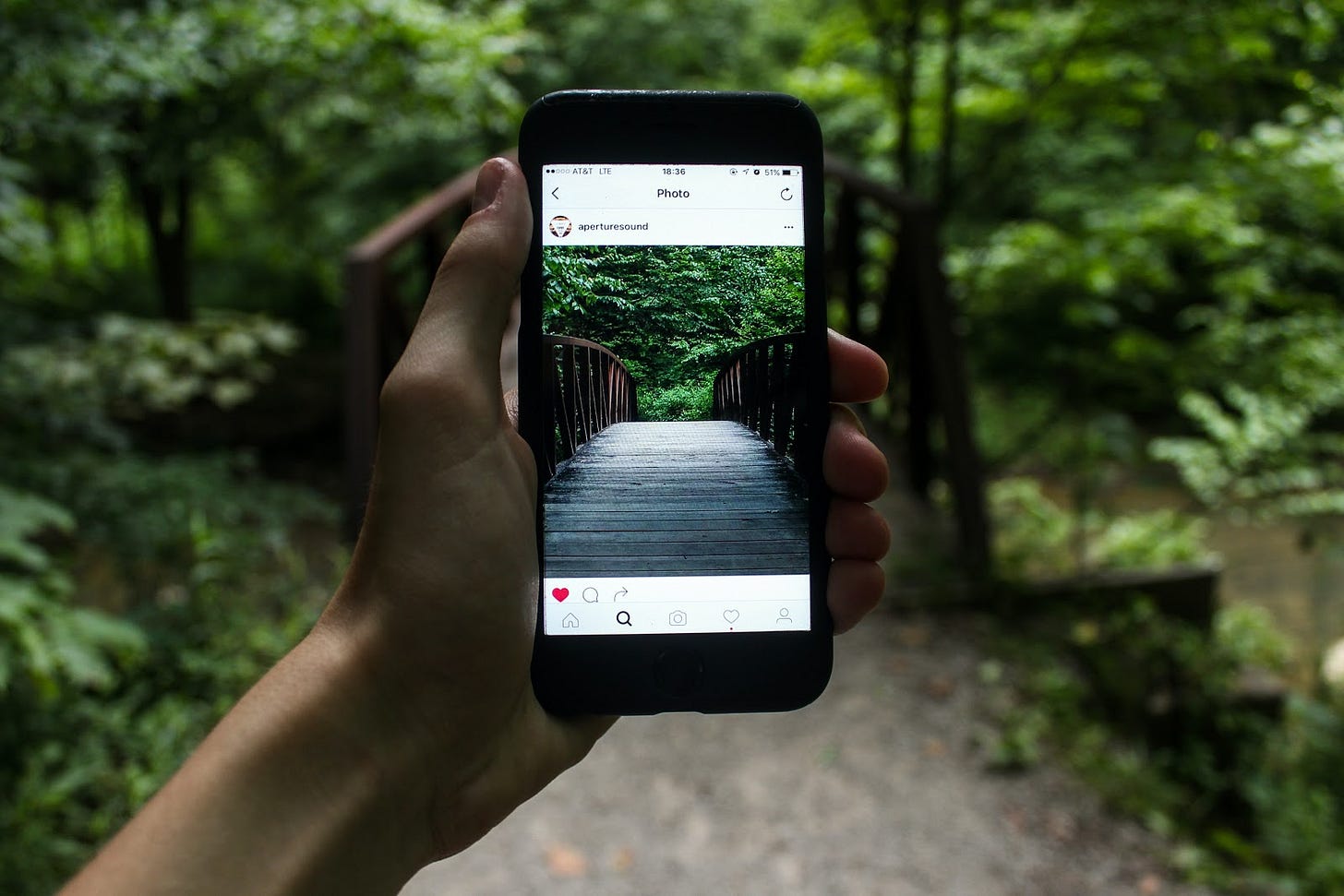 Hey everyone, welcome back to Urban Tech! John, here. I'm super excited about this week's Long Thing. Last week, I finished Sarah Frier's fantastic book on Instagram — No Filter: The Inside Story of Instagram.
The book inspired this week's edition because, for good and bad, Instagram has completely changed how we experience cities and places. 
A couple small asks before diving in:
In honor of this week's edition, we officially launched the Urban Tech Instagram page. Go give it a follow! It will be another channel for our content and also plenty of unique visual content. Sarah's book validated how strong a channel Instagram could be for Urban Tech.

Please continue to share Urban Tech with folks you think would be interested! We are continuing to grow rapidly, and word of mouth still is the best method for our growth at this stage.

Finally, you can follow Urban Tech and me on Twitter for up to date analysis and thoughts on relevant news. Fair warning, there will be tweets about pop culture, tech, and general politics mixed in — particularly for my personal account.
Next week's edition will be the first part of my Q&A with Culdesac's Tempe GM Lava Sundar (Culdesac is building the first car-free neighborhood built from scratch in the US; slated to open next summer). Culdesac is one of the coolest companies I'm following, and I'm excited to share more about the team's work with all of you.
A Long Thing: The Instagramification of Cities
Sarah Frier in No Filter does a fantastic job tracing the history of Instagram: the factors that drove its success and exit velocity; the ways it changed our culture and social constructs; and the company's unique and fascinating relationship with Facebook. The adage of perception is reality has never been more true than in an Instagram-dominated world. 
I highly recommend buying the book for yourself and enjoying the incredible story Sarah tells. She's a total pro, and I've loved following her fantastic work at Bloomberg for a few years now.
On the surface, it's easy to see Instagram's success and popularity. You've probably heard the numbers before: over 1 billion users, millions of photos shared every day, and well over 40 billion photos shared since its creation. Beyond the sheer volume and stats, I'm interested in how Instagram has fundamentally changed how we engage with physical places.
I connected with Sarah, and this is how she described Instagram's impact on cities and places:
"When we look around us, we can see the impact of Instagram, in a way that can't be said for Facebook, YouTube or Twitter. Think about it when you see that minimalist design with lots of succulents in the coffee shop, or those colorful murals in your downtown area. Places lure you to visit by becoming photo backdrops for the story of your life. And we pay more for cocktails and food that are visually stunning, for vacations that photograph well, for the perfect decor at a child's birthday party, for a photo booth at our weddings."
This thought from Sarah is 100% true and so smart. Instagram has undoubtedly led to a boom in travel locations, but the impact is much, much more significant than that. No other app has changed our perception and experience of cities and places than Instagram. Think about it. If you live in a city and have an idea for a restaurant you want to try, where's the first place you go? Instagram tells you if it'll at least be aesthetically pleasing. Maybe you heard about a concert that sounds dope, but it's at a venue you've never been to; you're probably checking out what last week's show looked like.
Or maybe rather than consuming content, you want to create your own content. Then you're almost guaranteed to have looked up a background or burger that will help drive engagement on your post — we are all guilty of it.
With Sarah's help and backstory, I think Instagram's success can mainly be attributed to several key factors:
Incredible product design and focus

A. One thing that is super clear in the book is Kevin Systrom, and Mike Krieger were the perfect founders for Instagram. Kevin brought an incredible product vision that eventually became Instagram and Mike built the infrastructure and systems Instagram runs on.

B. Simplicity and focus were at the center of every product move Instagram did and still does. Think about every filter or editing button: simplicity and clean design are at the center of it.

Tapped into a passionate community 

A. In its early days, Instagram knew it wanted photo sharing to be for everyone, but it certainly prioritized photographers and artists. This strategy helped legitimize the product and made everyone's feed/experience better.

B. This approach also helped them iterate and perfect the product early before it reached groundswell.

Created and augmented a new wave of culture

A. At many turns, Instagram gave celebrities and famous people new tools and a canvas for reaching fans. Sarah's recounting of Instagram's relationship with Kris Jenner and Taylor Swift was fascinating. 

B. Like Uber and Twitter, Instagram gained early adoption with celebrities like Ashton Kutcher and Justin Bieber. The company's name also reached verb status like Uber and Twitter. To Instagram, became as ubiquitous as saying "I'm gonna Uber" or "I'm gonna Tweet this".

Put users at the center of the experience

A. All great companies do this. Amazon is known for being customer-centric in everything it does. Instagram allows for every user to be their own media company with the touch of a button, a selection of filters, and a witty hashtag.

B. At almost every turn or decision, the company always came up with an answer that put customers first.

Luck and timing

A. A great idea is one part of the equation. Luck and timing always play big roles in these stories. Instagram is no different. Twitter (Jack Dorsey was an early investor) helped legitimize the company and Systrom's seemed to have a lot of luck and timing on his side along the way.
Below you can see the most popular cities by hashtag in 2017. The list features the cities you'd expect. London, New York, LA, Paris etc. All are global cities that drive innovation and culture.
If you live in one of these cities, or pretty much any city now that attracts millennials and gen-z , you can't walk through it on a Saturday or Sunday and not find experiences groomed for Instagram. You may not even realize it.
A theme I've discussed before is the idea that map apps are increasingly the search box for users to find food, shopping, and commerce. 
The key theme that Jesse Hempel outlined for WIRED in 2018 is this:
"Search has always been partially about location: if Google knows you are in Indiana, you'll get more meaningful results when you type 'today's weather' into your laptop. Traditionally, though, the physical and digital worlds have been divided. You use search when you need information, and a map when you need to get someplace."
While Instagram isn't functioning as a traditional map, it is a digital map of our lives and experiences in many ways. We not only search for new locations and places to explore, but we create personal maps of experiences and moments in time. Think about it. Your Instagram, through the lens of a filter, is just a map of your life with the key feature being a photo to communicate place and time.
Because of this, Instagram has fundamentally changed our experience of places forever. At this point, It's hard for me to say if it's changed them for better or worse. But, what I can say is this: no other app has changed our individual experience and individual perceptions of places than the Gram.
A huge shoutout and thank you to Sarah Frier for writing No Filter and sharing her thoughts on how Instagram has changed cities and places. Go buy the book, please! It's excellent and you'll learn something new guaranteed.
What I'm Reading this Week
Bloomberg: Goldman Joins Funding for Ikea-Backed Home Improvement Startup
"Livspace, a home interiors and renovation platform that counts Swedish retailer Ikea among its investors, raised $90 million in a round led by Kharis Capital and Venturi Partners to fuel its expansion in Asia."

"Founded in 2014, Livspace connects customers with designers and vendors to help them furnish homes in Singapore and nine metropolitan areas across India. With the new capital, the company is thinking of expanding into more Indian cities as well as Malaysia, Indonesia and Australia for the first time, according to Chief Executive Officer Anuj Srivastava."

"The latest funding brings Livspace's total amount raised to $200 million and comes as the Covid-19 pandemic is chilling deal activity worldwide. Investors continue to fund Asian startups with potential to gain market share in areas that benefit from a surge in online activity."

Interior design is really hard and there are lots of avenues tech can help.
VentureBeat:NHTSA launches an autonomous vehicle test tracking tool with data on 17 US cities in partnership with Fiat Chrysler, Toyota, Uber, Waymo, and others
"In June, the U.S. National Highway Traffic Safety Administration (NHTSA) detailed the Automated Vehicle Transparency and Engagement for Safe Testing (AV TEST), a program that purports to provide a robust source of information about autonomous vehicle testing. Today marked the official launch of AV TEST after several months of ramp-up, beginning with a tool for tracking driverless pilots in 17 cities across nine states. But despite lofty promises from the NHTSA of the transparency AV TEST will herald, its current incarnation — at least from first impressions — is bare-bones at best."

"Companies including Beep, Cruise, Fiat Chrysler, Nuro, Toyota, Uber, Local Motors, Navya, and Waymo have agreed to participate in AV TEST so far, along with those that have previously submitted testing information to NHTSA, including Aurora, Easymile, Kodiak Robotics, Lyft, TuSimple, Nvidia, and Zoox. The tracking tool reveals on-road testing locations and activity data like vehicle types, uses, dates, frequency, vehicle counts, and routes. And it shows information about state vehicle operation regulations, emergency response plans, and legislation, as well as links to the voluntary safety reports some vehicle operators publish."
CityLab: Trump Eviction Moratorium Brings New Questions
"The Trump administration announced a sweeping federal eviction moratorium on Tuesday, offering protections for struggling renters that go far beyond the previous 120-day moratorium that expired in July. Under the authority of the Centers for Disease Control and Prevention, the administration issued a four-month ban on evictions in order to keep millions of tenants in place in the hopes of preventing the spread of coronavirus."

"Under the terms of the new edict, tenants earning no more than $99,000 (or $198,000 jointly) may receive this protection, which takes effect Sept. 4 and lasts through Dec. 31. Qualifying renters will need to present their landlords with a written declaration testifying to their circumstances. Property owners who defy the moratorium are subject to criminal penalties."

"It covers the vast majority of renters who are on the verge of losing their homes," says Diane Yentel, president and chief executive officer of the National Low Income Housing Coalition. "It's a half-measure. Rent is still due. Rent is still owed."

Look, we really needed this. While Trump's measure is nowhere near as strong as we need, and states are already going further to protect renters, it's at least something for the millions of renters in America.
CNBC: Google Mountain View tech hub proposal: Pictures
"Google plans to convert 40 acres of Mountain View land into a new mixed-use campus."

"The plans include a mix of office space, housing, retail and event space."

"It comes one year after the company committed to incorporating more residential space amid the Bay Area's housing crunch."

Remember: Real estate holdings are often the biggest asset on a company's balance sheet, so think of this as an investment for Google in prime real estate that is near certain to appreciate.
Fast Company: Will Silicon Valley put real estate brokers out of business?
Jason Weissman, the CEO of Boston Realty Advisors, the largest independent real estate services firm in New England, wrote a piece for Fast Co. examining the role for human brokers as technology in real estate takes hold.

"It's an open secret that real estate, the world's largest asset class, has also been one of the slowest industries to adopt new technologies. In fact, a recent KPMG survey found that only 58% of real estate companies have a digital strategy in place. The current situation leaves the field wide open to innovation—and disruption."

"The answer isn't all doom and gloom for America's two million real estate agents. While PropTech will ultimately bring all listings online, real estate agents are still critical for the most important part of the purchasing process: advisory service. If all politics is local, that is doubly true for real estate. Even the most tech savvy buyer or seller can benefit from the counsel of someone with market knowledge about individual neighborhoods."

"Despite the need for human dexterity, it is undeniable that the future of the real estate brokerage business will revolve around the instantaneous application of data. From leads to listings, we live in a digital world. Consequently, it's imperative for real estate agents to combine their accrued market acumen with new technology in order to be a trusted resource and effective advisor."
Thanks everyone for reading! Talk next week.✌️
JT