Tesla + Austin = 👍 or 👎 or 🤑
Examining the deal and a conversation with Austin Commissioner Nathan Ryan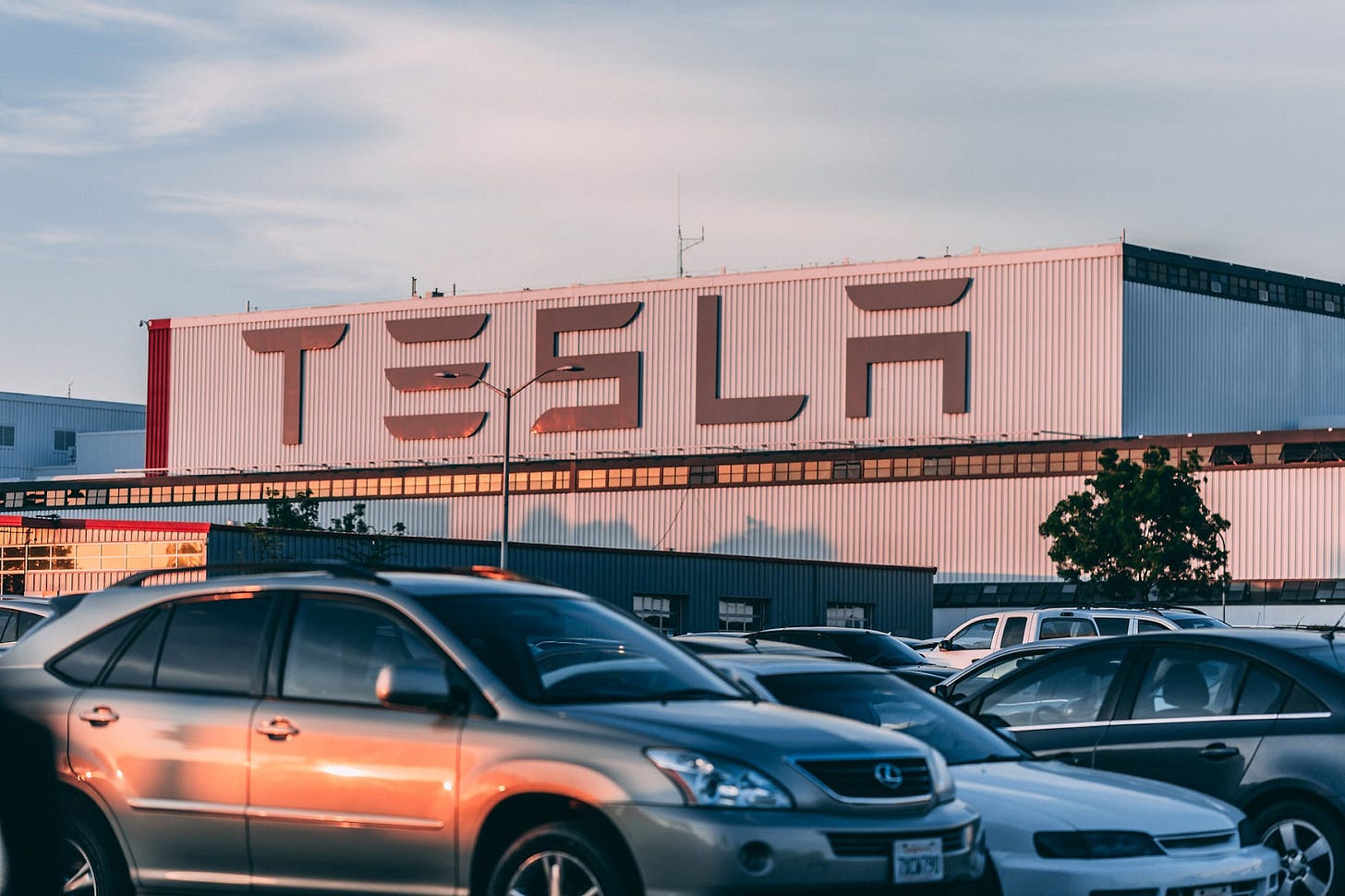 Hi everyone, John here. A massive shoutout to everyone who has joined the Urban Tech movement and subscribed to this newsletter. I am ecstatic to share we have broken 200 subscribers. To be honest, it happened way faster than I expected. Thank you so much for the kind words and support as I continue to evolve Urban Tech. Please continue sharing Urban Tech with colleagues and friends.
Before diving into Tesla and my conversation with Commissioner Ryan about the news, A quick heads up for next week: You'll be hearing from me twice next week! 
I will of course be publishing Urban Tech Thursday morning, but on Tuesday morning I will also be sending out a special update on some new things coming for Urban Tech and sharing some notes on the journey thus far. One of the best parts of creating something in 2020, particularly on the media side, is growing and learning in public. 
Also a quick reminder, Urban Tech will be moving to its new time slot next week. We will be publishing between 5:30-7:30 am PT on Thursdays.
Okay, let's dive in.
A Long Thing: Tesla + Austin = 👍 or 👎 or 🤑
Last week, I touched on the news that Tesla would be opening a new factory in Southeast Austin. Here's what I said:
From the Austin American-Statesman: "In one of the largest economic development projects in Austin's history, electric automaker Tesla says it will build a $1.1 billion assembly plant in Travis County that will employ 5,000 people."

"Travis County, where the new car plant will reside, voted earlier this month to give Tesla tax breaks worth a minimum of $14.7 million to build the plant to bring jobs to the area."

I am certain the city of Austin kicked in some incentives also.

The Statesman confirmed no State benefits were part of the deal but local incentives were.

I'm curious to see how the state's changing politics lead Texans to feel about the deal. Left of center politicians are galvanized by their base to oppose these kinds of incentives for major tech companies…
Now that the deal is a little less fresh and opinions start to form beyond initial reactions, I wanted to explore the deal, its potential impact, and use it as a case study for analyzing similar economic development deals between cities and companies. Texas Monthly has a great piece getting into the weeds of the agreement and some of the more complicated economic development details.
News alert: Elon Musk, and now by extension Tesla, are political lightning rods. That may seem obvious, but we have to keep it top of mind when looking at deals like the one in Austin. Local politics, and even national politics, are major themes in these situations. Look at the Amazon deal that fell through in NYC for a major expansion in Long Island City. Amazon's chances of a major development in Long Island City were sunk after the 2018 midterms, as Ben Smith outlined for Buzzfeed in 2019.
I worked in New York politics for several years, so I have a little inside baseball knowledge. For years, Democrats controlled the Assembly while Republicans, who an Independent Democratic group caucused with, were able to maintain a hold on the State Senate. In 2018, that finally ended after major wins in down-ballot elections and a political wave of progressive realignment. Remember, this was the same election AOC beat incumbent Joe Crowley in the primary and proceeded to be elected to the House.
The impact and trends weren't just at the national level for New York. It continued further.
Once this happened, deals like the Amazon deal with NYC, and Alphabet's Sidewalk Labs deal with Toronto were destined to receive much more scrutiny. [Disclosure: Sidewalk Labs was a client of mine during my first job out of college at BerlinRosen.]
Despite being hailed as a liberal island in a sea of Texas red, Austin does have a different political landscape than New York. Not only are politics different, but the institutions working to make these deals happen are very different. Let's zoom into Austin as a city and metropolitan area compared to the rest of the U.S.

Source: U.S. Census Data, Austin Census Data
As you can see above, it's pretty easy to see why the city and area are attractive for a company like Tesla. Austin has a highly educated population compared to the rest of the country. Before even factoring in tax and economic development incentives, the state's beneficial tax structures, business laws, and compliance are beneficial for Tesla. Manufacturing and the automotive industry, for good reasons like safety, have a lot of regulations.
The details of the deal are still coming out, but it is confirmed Travis County contributed $14 million in tax incentives for Tesla. It is certain the city of Austin also kicked in tax incentives and even subsidies and other benefits. A school district also played a crucial role in capping Tesla's property taxes.
A reminder: when Amazon was launching its HQ2 search, cities were offering insane benefits.
While this Tesla factory isn't nearly the scale of Amazon's HQ2 proposal, similar methods for attracting companies to cities and states are not exclusive to these instances. Remember Foxconn?
Think about it: is it really good to have not only cities in different states bidding for these deals and even cities in the same state or metro area competing in this manner? To me, it seems like a race to the bottom, with the only true winner being the companies.
Dr.Timothy Bartik at the Upjohn Institute has been studying this trend for decades. I highly recommend checking out his work and his free book on economic development incentives if you want to get in the weeds of this stuff. 
Here is Bartik's conclusion in the book:
"To promote broadly shared prosperity, incentives shouldn't be eliminated. [They] should be tamed. This taming requires some cutbacks of what we currently know as incentives. It also requires reforms. Remaining incentives should be more short term and emphasize business services more. The incentive animal needs to go on a more nutritional diet. Only after such taming can incentives make sense. Only then can incentives help build prosperity for all." 
It's too early to tell if the Tesla deal to come to Austin is good or bad. It will most likely be a mix of both for the city and its residents. I think towns like Bastrop, East of the City, will benefit as the trends we already see in Austin accelerate. People who are priced out of Austin will be looking for cost-effective living alternatives that have things to do. As someone who has spent plenty of time in Bastrop and surrounding cities, I can confirm it's a great place to spend time and you get easy access to the Austin airport.
I'm confident saying that the trend of successful companies pitting cities and states against each other to win their development, in the end, is not suitable for cities to continue to thrive and ensure equity in our communities. So the next time you see one of these deals: Amazon opening a new logistics hub or Google opening an engineering center, I hope you'll at least be a little skeptical before determining it is entirely beneficial for the city.
A Medium Thing: A Conversation w/ Austin Commissioner Nathan Ryan
I had the pleasure of speaking with Nathan Ryan, who is on the Economic Prosperity Commission for Austin to get his insights on the Tesla news. He is also CEO of Austin-based consulting firm, Blue Sky Partners, and also a member of the Austin Ethics Review Commission. You can follow him on Twitter here.
1. As someone involved in the community, what were your first reactions to hearing Tesla would be coming to Austin?
I think we should be clear-eyed about the fact that Tesla coming to town is a big deal for Austin and could be a very good thing, but it will also bring challenges that exacerbate long standing systemic tensions in the city. We need to be serious about seeing and addressing all of that. So my reaction was mixed. Obviously, Tesla coming to Austin is exciting in that it further cements Austin as a future-focused city—one that every major player in the tech space, from Apple to Google to Facebook and now Tesla, want to make sure they're a part of. If things pan out like they've said so far, 5,000 jobs in Southeast Austin, many in manufacturing, with no required degree, at an average of $35,000 annual salary, could be a good thing. What gives me pause, though, is that Texas' tax structure is based on property tax, not income tax. And in Southeast Austin, like Austin proper, anything east of I35 is primarily Black and Latinx, with generations of families poised to be priced out of the neighborhoods they've been in for a really long time if this development causes property values to rise substantially as a result of Tesla moving into the neighborhood.
2. For the relationship to be successful and beneficial to Tesla and the City of Austin, what do you think needs to happen?
For big, splashy, companies like Tesla, there are lots of tax and other incentives at play when they look to open a factory like this. In this case, the company received something like $60 million in tax rebates from the City of Austin and $14 million in rebates from Travis County. The goal with rebates like that is that the company, ultimately, pays all of that back and more in order to make the city and county's investments worth it. Right now, with the growth Austin has been seeing over the last few decades—even in light of however Coronavirus might affect our growth—we're going to need more public transit infrastructure and a massive increase in available housing to keep the city as affordable as it can be. So that's one part of this. Obviously, Tesla is an incredibly innovative company, too, so I think they have an opportunity to create partnerships that will help Austin stay on the forefront of the national innovation conversation as well with job training and career pathways partnerships. I'm encouraged to see that they're already working with Huston-Tillotson, Austin's only Historically Black College and University in East Austin, to create learning initiatives that could potentially, ultimately, turn into apprenticeships and job opportunities. If Tesla can ultimately come alongside and support public infrastructure projects focused on public transportation, housing, and job training, and work in a conscious way to make sure they're not displacing people, I think that would be a sign of a good partnership.
3. What do you see as the benefits of Austin compared to other cities in say, California for a company like Tesla?
Well, obviously, Texas has no state income tax and California does, which—from a public policy perspective—puts the tax burden primarily on homeowners and is what drives much of the displacement I mentioned up top. That said, for a corporation, that's really appealing. It means you're not paying additional payroll taxes and other fees at the state level for employees at that facility. The lower cost of living, relative to California, also means that your employees can, in theory, live comfortably with a lower salary, which decreases your expenses overall. And, contrary to reports of Austin's demise, Austin is also a city that's still on the rise from an economic, artistic, intellectual, medical, and cultural perspective. Austin is consistently rated number one or close to number one on "best cities in the U.S."  lists for a reason. Tesla is lucky we let them come here. 😉
4. Austin is no stranger to issues of gentrification, how do you think a new Tesla factory plays into that narrative?
I think the mere fact that Texas is a property tax-driven state from a public revenue perspective means that this likely exacerbates the gentrification issue. The question is whether or not they'd support aggressive measures to build more dense market rate housing, and public transportation.
5. What can the city and country prioritize to ensure displacement or negative outcomes are minimized?
If the City of Austin and Travis County are serious about making sure this isn't disruptive, they'll increase their calls for investment in public transit (like they are right now with Project Connect) and renew their calls for land use reform. The truth is, Austin isn't landlocked the way the cities we like to look at as boogeymen are. San Francisco, Los Angeles, New York—they've kind of built out as far as they can. Austin has more room to grow out, but if we want to really make Austin an affordable place in the future, we're going to have to build up a whole lot more, and we're going to have to reduce the number of cars on our roads. And don't get me wrong, I know Tesla is a car company, so they may be loath to invest in public transportation. But just think about how cool it would be, in 2025, to be one of Austin's 1.5 million residents stuck on MoPac or I-35 in your brand new Cybertruck, going 10 miles an hour because Austin's roadways couldn't ever possibly be widened enough to allow for a free-flow of traffic. If those Tesla owners want to enjoy driving their new cars, they're going to want to invest in city-wide alternative public transit like Bus-Rapid-Transit and rail so there are fewer drivers on the road.
6. In the coming decades, say 2035 or 2040, how do you think Austin and its citizens will feel about Tesla's presence in the city?
You know, my hope is that in 2035 or 2040, we're at the point where we can take Tesla being here for granted because our City has grown and innovated in a way that a bunch of other new things are here. I do hope we'll look back at Tesla as a great partner in some of the things that got us there, though. They can get started on that right now.
What I'm Reading This Week:
The Information: GoPuff's Growth Challenge: Grappling With Resident Complaints About Traffic
"GoPuff is enjoying surging growth in demand for its fast deliveries of beer, ice cream and other convenience store items. But as it expands into new markets, opening warehouses in residential areas, it is bringing traffic congestion and sparking neighborhood anger."

My take: In theory, people like the idea of growth, but when it comes to their neighborhood they are often more opposed to it.
CNBC: How the eviction crisis across the U.S. will look
The numbers speak for themselves: Massive unemployment has left more than 40% of renter households at risk of eviction, according to a new analysis by Stout Risius Ross.

Look below for the state-by-state breakdown.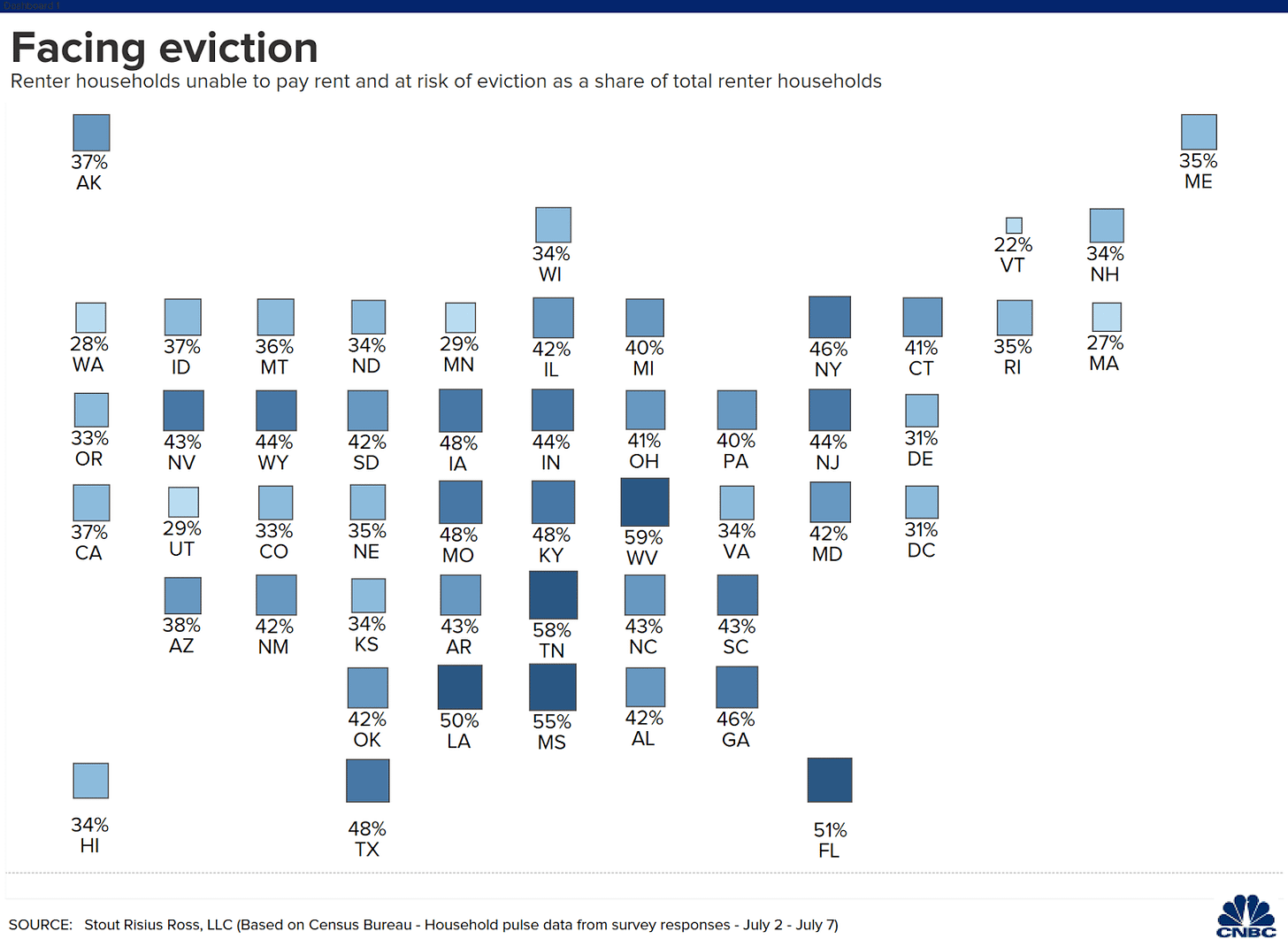 The Wall Street Journal: Tech Giants Aim to Solve West Coast Housing Shortage
"New investments from Alphabet Inc.'s Google and from Apple Inc. offer the first detailed look at how the big technology companies are following through on their pledges to help ease the West Coast's shortage of affordable housing."

"Google said Thursday that it has deployed the first $115 million of the $1 billion commitment it made last year to affordable housing. Its investments so far have included $100 million in low-cost funding for housing developers and an investment in a modular-housing company, Factory_OS, to help it build a second housing factory."

My take: Housing is incredibly expensive and even these pledges will barely make a dent in California's housing shortage.
CityLab: Want More Housing? Ending Single-Family Zoning Won't Do It.
One of the smartest people on housing policy Emily Hamilton, research fellow and director of the Urbanity Project with the Mercatus Center, has a new piece in CityLab.

"To add more affordable "missing middle" homes, cities need to change parking requirements and limits on building and lot size, too."

As I've said in previous editions, we need a lot of solutions to fix the housing shortage in the U.S. Emily very eloquently explains why just ending single-family zoning won't do it.
Forbes: Telehealth Startup Ro Is Now Valued At $1.5 Billion After Closing $200 Million Funding Round
"At a time when telehealth services are in high demand because of the coronavirus pandemic, telehealth startup Ro said Monday that it is valued at $1.5 billion after closing a $200 million Series C led by existing investor General Catalyst."

Telehealth was a growing trend before COVID and has been thrown into overdrive. Once we have more healthcare data, I'm interested to see how it compares in outcomes for patients compared to in-person treatment.
The New York Daily News: How to create outdoor classrooms: Maximize use of schoolyards to get in-person teaching to as many students as possible
NYC Comptroller Scott Stringer penned an op-ed about how we can use schoolyards for outdoor education.