Q&A w/ Culdesac Tempe GM Lava Sunder Pt.2
What it means to be the first post-car real estate developer
Hi everyone, John here. Welcome back to Urban Tech! A big welcome to all of our new subscribers. 
We currently have over 280 subscribers now. Subscribers to Urban Tech include: reporters at publications like the Wall Street Journal, The New York Times, Axios, and The Information; founders at leading tech companies; investors and VCs; political operatives across the country; construction leaders; planners; researchers and more.
If you're a member of a PR team, check out the pitching Urban Tech section on our about page for more insights on sharing news and pitching us.
I'm excited to dive into part 2 of my conversation with Culdesac's Lava Sunder. Culdesac is the first post-car real estate developer and builds car-free communities from scratch. Check out part 1 of our conversation, here.
Culdesac's first development is in Tempe, AZ, and Lava is the GM of the Tempe project overseeing marketing, leasing for the project, partnerships, and site operations. In the first part of our conversation, Lava shared Culdesac's vision for car-free communities, why they chose Tempe for the project, trends she's watching, and more.
Our conversation is also super timely given this week's Opendoor IPO news. One of Culdesac's co-founders, Ryan Johnson, was on Opendoor's founding team. The companies share a lot of synergies and both are focused on different, but important issues for residential real estate.
There will be plenty of analysis of Opendoor and the IPO in the future, but check out some of my initial thoughts below the conversation with Lava. Okay, let's dive in.
A Long Thing: Q&A w/ Culdesac Tempe GM Lava Sunder Pt.2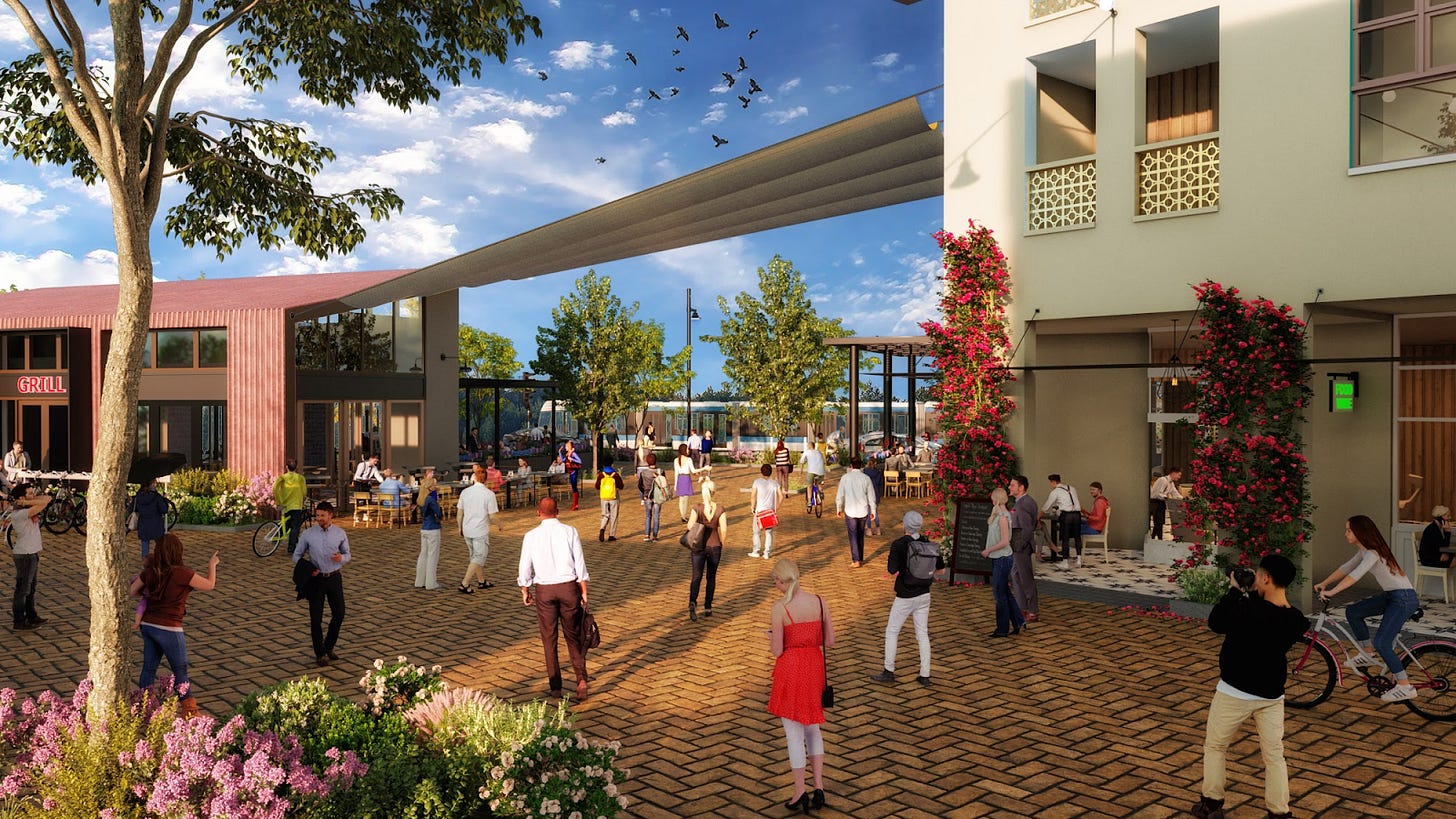 JT: You mentioned last week that the growth in e-bikes is something you and the Culdesac team are excited about. What would you say is the threshold where you start looking at an e-bike versus a scooter or bike?
Lava Sunder: Good question. I think that they're different vehicles. And I will say that I chose my e-bike as a replacement for a vehicle.
Tempe and the Phoenix metro area, I would say most of the places that I want to go are within 10 miles, which is within the threshold where I would need to charge my bike. I bike from Tempe to North Scottsdale super easily.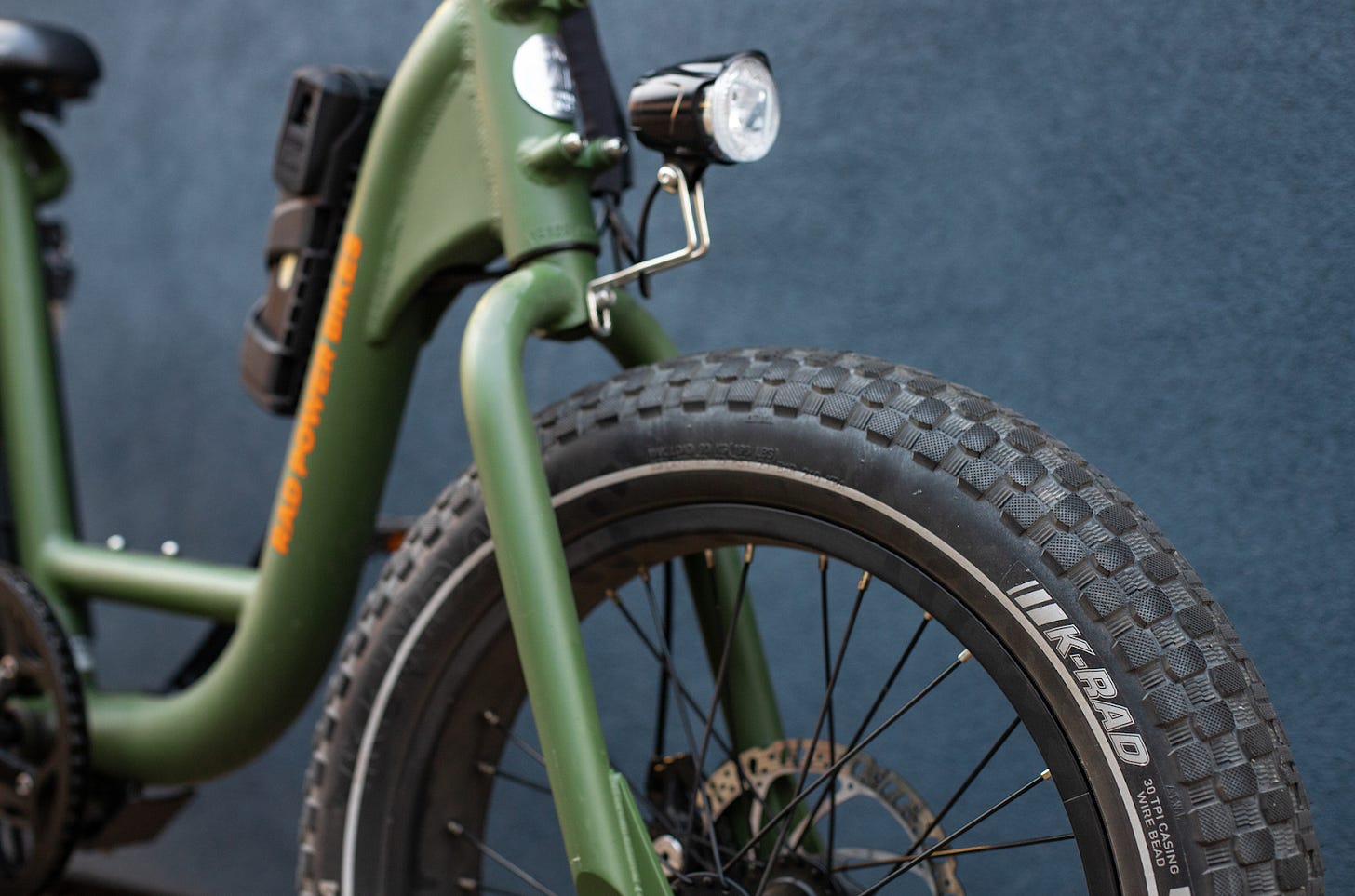 JT: I'd love to get your thoughts on something that comes up a lot in real estate and development issues. How are you thinking about it when you're building a neighborhood from scratch and the development taking into account diversity and inclusion?  Real estate in America has not had the best track record and housing particularly is rifled with a lot of systematic issues. I'd just love to hear how your team is thinking about these issues.
LS: Yeah, of course. I think our value proposition is actually not just car-free. I think that's what we're doing, but our value proposition is really life at your front door. It's the idea that when you open your front door, you don't just see a road, you see a courtyard filled with other people. You can walk a minute and go to the grocery store, restaurant, coffee shop, or your co-working space. There's a main park nearby where you have an on-site carshare and integrated rideshare. It's really integrating all your life into the neighborhood. That value proposition ends up appealing to a very wide variety of people. 
We've already filled our waitlist for the first phase. The groups of people on that waitlist are coming from all over the country and they're quite diverse, so around 50% of the people from our waitlist come from outside Arizona. So people are coming from San Francisco, New York and Minneapolis and Atlanta. 
In fact, we have someone on the waitlist, who lives in Kodiak, Alaska. This further illustrates how diverse from a geographical perspective the value proposition is. We also have a wide variety of people. So we have a large number of remote workers, especially post COVID. That number has picked up as we have a large number of young professionals who live in the Tempe area already. Empty nesters and retirees are looking to downsize but want to live in a place that's very vibrant like Culdesac, and in a place that represents an opportunity to forge intergenerational connections. 
Culdesac Tempe is going to be a place where folks who've just graduated from ASU will live. But also folks like someone on our waitlist who is a 76-year-old retired professor, who went to ASU for undergrad in the 60s.
One of the things I've been most proud of, in working at Culdesac is starting to see the community come to light. I think it's rare that you see a community that has a single mission that is able to unite such different types of people.
JT: That's awesome. I'm super excited to hear that it is the lifestyle that's appealing to so many different people because I truly do think that walkable neighborhoods and car-free neighborhoods and development are a lifestyle that people of all ages and all walks of life would love or enjoy. People already do all over the world.
What would you recommend to readers looking for more info on topics we discuss??
LS: We read a lot as a company. I think, part of the way we think as a company is that sometimes for urbanism, the best ideas are actually just the most classic ideas. The Death and Life of Great American Cities is sort of required reading. And obviously, it was published many decades ago, but we find that Jane Jacobs' insights are very relevant today, and almost increasingly relevant. 
We also highly recommend Missing Middle Housing, just released by Dan Parolek from Opticos, who designed Culdesac Tempe. We started meeting with them back in 2018. They are the primary designer of urban design, the residential architecture, and some of the commercial architecture as well.
Culdesac is the perfect example of awesome missing middle housing in practice. We have three-story buildings across the site, but we're twice the density I think of San Francisco. Dan was integral for creating the vision. So I highly recommend that.
JT: The missing middle concept is one that's super important. When you're talking about housing affordability, I think that missing middle is something that is often lacking from the conversation. So I'd love to hear about how that shaped Culdesac and how you think about that?
LS: For the readers, missing middle housing is the idea that in the US, there are either single-family detached homes or large multifamily towers, and there's really a lack of housing in between. So that's the missing middle. And what that is is duplexes, triplexes, garden-style apartments etc. These are the types of things that actually end up creating a really human-scale environment, but also preserve density for the community. And for Culdesac, every single building is at the most three stories high. We have some two-story buildings. 
Two to three-story buildings allow us to create an environment that's incredibly human scale. So you feel like you're walking in architecture actually from Mykonos or a Mediterranean village. But you also have the advantage of having a lot of outdoor space in addition to private space.
Everyone has their own private outdoor entrance, their own washer and dryer, bedroom and so on and so forth. And it's a lot more personal than the kind of double-loaded corridors and traditional apartment complexes that can feel oftentimes, very lonely. 
When you open up your door at Culdesac, you open it up to a shared courtyard that has a barbecue, tree and a hammock and gardens. The other benefit of missing middle is that we were able to use traditional stick frame construction and what that allows us to do is it ends up being more affordable to build which of course ends up being more affordable to deliver.
JT: That's a super important point. For readers, some context: when you build housing or a building that requires you to put in an elevator shaft, you have to use steel and the complexity makes the cost of your build now much more expensive.
LS: I think it's actually really great also because our project is inherently mixed-use. All of the commercial uses on-site have residential on top of them, except for the restaurant, which is just a standalone building. 
JT: Absolutely, mixed-use projects are major investments for developers and have proven crucial to developers' bottom line. I'd love to hear a little bit about the interesting partnerships you're overseeing.
LS: In terms of partnerships for Culdesac Tempe, we partnered with a local developer called Sunbelt Holdings. They've built a lot of really amazing developments in the Tempe and in the greater Phoenix area. They're our co-developer for the project. We're also partnered with Encore Capital Management. They are a real estate developer and they are our capital partner for the project. 
These partners have really helped us bring Culdesac Tempe to life. We've partnered with local organizations such as the local neighborhood association, the Escalante Neighborhood Association and a lot of other local Phoenix and Tempe groups. We believe that it is very important for us that Culdesac Tempe is very locally oriented.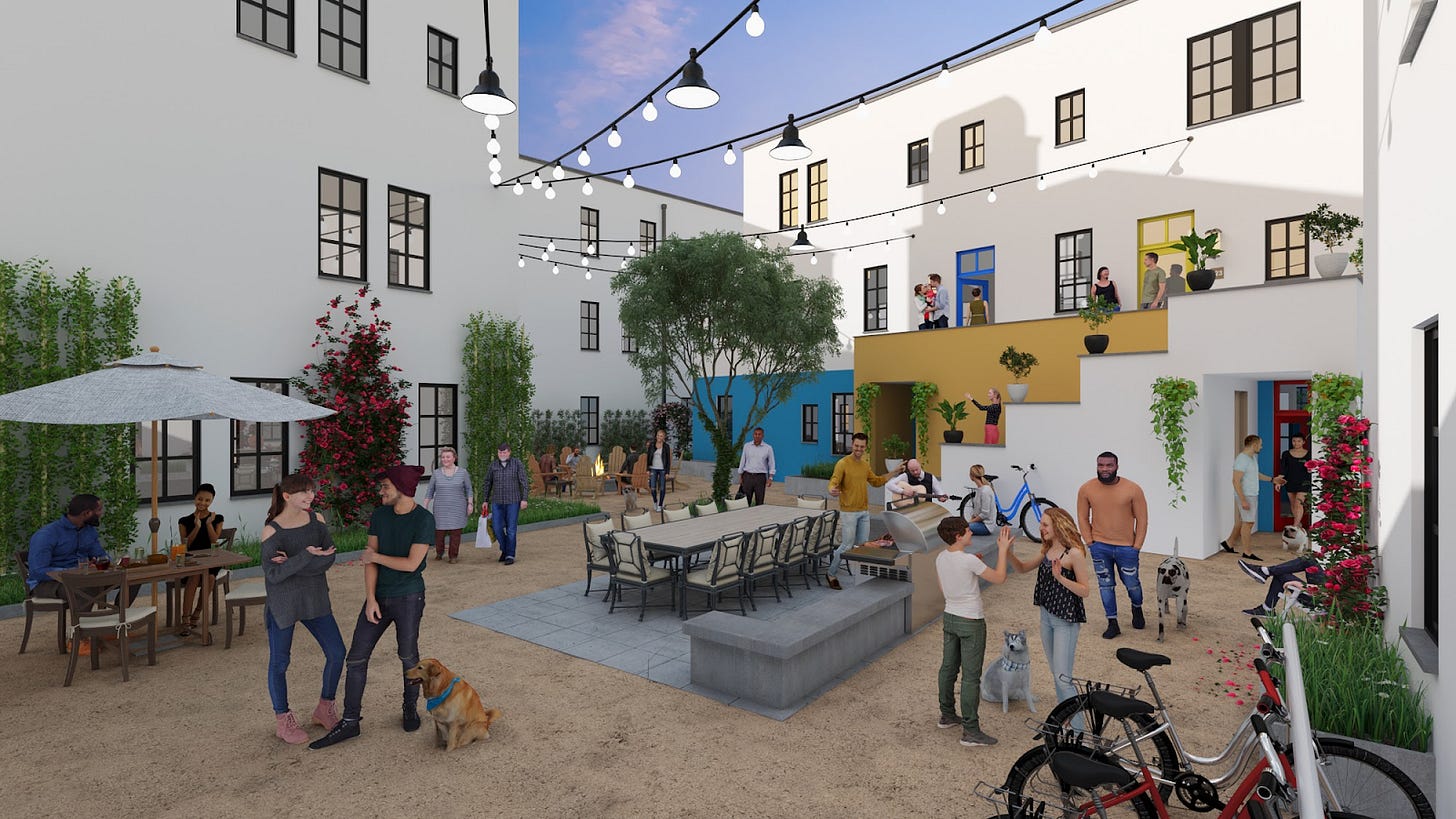 JT: I love that. The local piece is something a lot of projects miss or ignore and it's really important to people. When people come from out of town to build a development or something that doesn't really fold into the layers of the city, people notice. 
Is there anything they didn't ask you that you think I should have? Or you want to leave the readers with?
LS:  We are called Culdesac and we are the first post-car real estate developer building car-free neighborhoods from scratch. Culdesac Tempe is our first neighborhood and it's the first car-free neighborhood built from scratch in the US. It's also the first time that a real estate developer and city have passed legislation to allow for zero residential parking. It's a neighborhood of 1000 people, and it opens next year. We've already filled our waitlist for the first phase and we're very excited to open Culdesac Tempe and continue to build bigger projects.
JT: How does weather impact Culdesac's model or its effectiveness? Would it work in cold environments like Buffalo?
LS: The climate of Arizona has impacted Culdesac Tempe's site design. Through thoughtfully placed buildings, landscaping, and various levels of shading devices, Culdesac Tempe boasts 42% shade coverage across the site (compared to the Tempe benchmark of 25%).
As for colder climates, we're inspired by the insights of the many people who have built and designed walkable/car-light developments in places such as Copenhagen or Amsterdam, with relatively colder climates.
A huge thanks to Lava for taking the time to chat! Culdesac's vision is one of the boldest I've seen and I'm super excited to follow Lava and the team. If you're someone interested in Culdesac's mission, check out their careers page — they are hiring!
Culdesac also recently launched: Extend Your Home On-Demand. Culdesac residents have access to over 30 different rooms on-site that can be booked directly from Culdesac's app.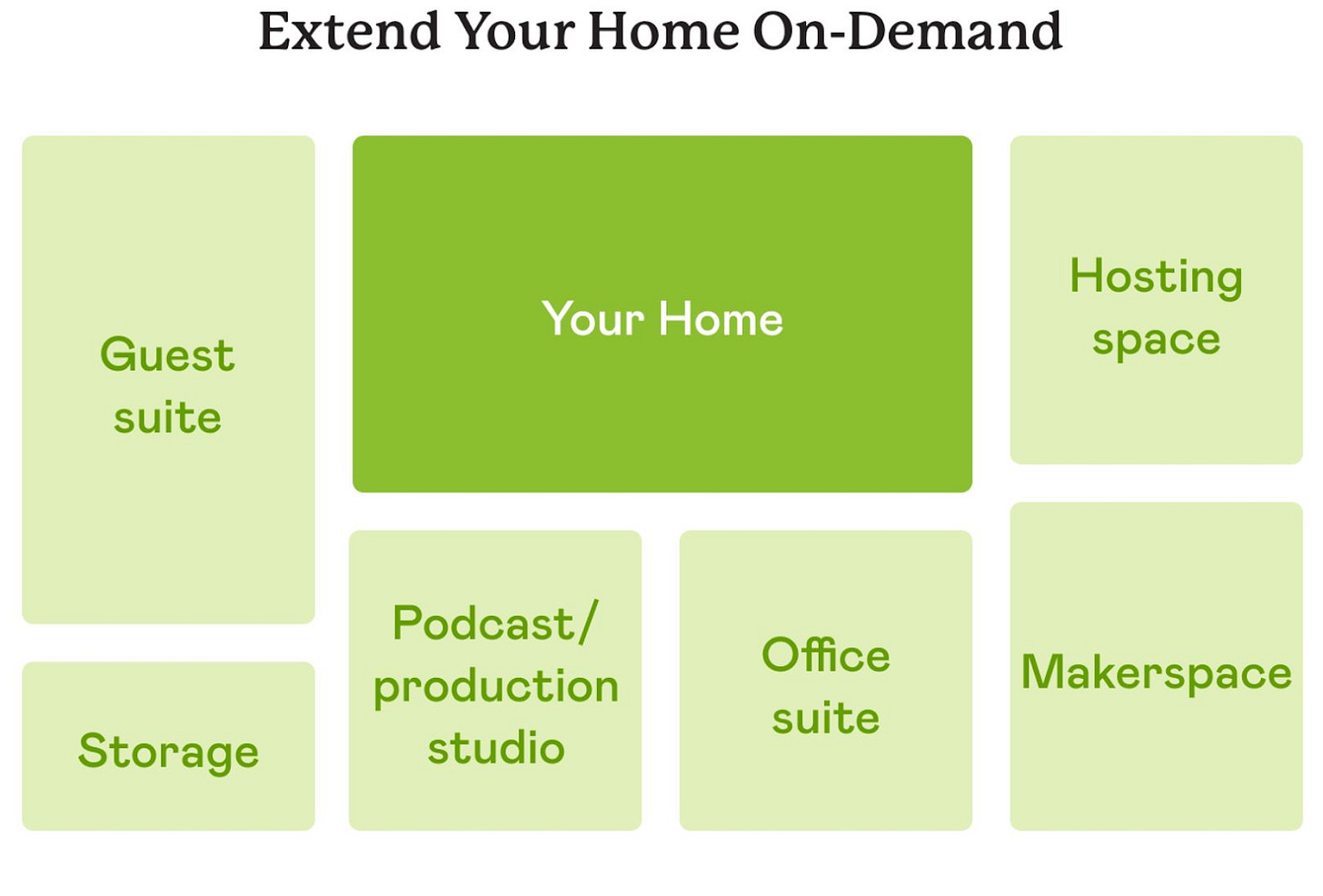 What I'm Reading this Week
:
Forbes: Home Buyer Opendoor Is Going Public In $4.8 Billion Merger
"Opendoor, an online platform that lets homeowners quickly sell their houses, announced on Tuesday that it will go public through a merger with Social Capital Hedosophia Holdings II, a shell company helmed by Chamath Palihapitiya, a venture capitalist and early Facebook executive."

"The deal values Opendoor at an enterprise value of $4.8 billion, and will generate up to $1 billion in cash proceeds, the company says. Palihapitiya himself is putting $100 million into the business."

There are plenty of reasons to still be skeptical of Opendoor. The company is still losing money, but the market and opportunity still seem far too big to ignore. Opendoor doesn't need to win it all. If the company can evolve services and improve its margins a chunk of the market will be enough.

Opendoor's value proposition of providing liquidity to homeowners by being able to sell your house in days can't be underrated.

Good Twitter thread from Packy McCormick of Not Boring on the values of Opendoor's business:
CNN: Amazon is hiring 100,000 people for $15-per-hour jobs
"Amazon is once again drastically expanding its workforce, announcing Monday that it's hiring 100,000 new employees to support a surge in online shopping amid the ongoing pandemic."

"The jobs, which are in the United States and Canada, are across its operations network including its warehouses, delivery stations and other sites. Pay is roughly minimum wage and begins at $15 per hour with benefits. It's also offering sign-on bonuses "up to $1,000" in some cities. Amazon is offering a mix of full-time and part-time positions."

Amazon is a logistics and operations powerhouse. It has opened up facilities across cities at a staggering pace this year and needs labor to staff these sites.

While automation is still a big focus for Amazon, it still needs people to keep up with the pace Amazon is scaling.
Atlanta Journal-Constitution: Microsoft behind Quarry Yards purchase
"Buyers affiliated with Microsoft are behind the $127 million purchase of the 70-acre Quarry Yards project in Atlanta's Westside."

"Three people with knowledge of the deal told The Atlanta Journal-Constitution that the West Coast tech giant was involved. Two said affordable housing will be part of the project, which could also include office space."

Some reactions to the deals have been very critical of its impact on gentrification in Atlanta and negative towards Microsoft for picking this neighborhood.
CityLab: What We Actually Know About How Americans Are Moving During Covid
We've been wondering for some time how COVID will impact urban migration;  we have some data now to interpret. The biggest conclusion is Americans moved less overall.

"One thing's for certain: So far, there is little support for the dramatic claims that people are fleeing cities writ large. In fact, available data indicates that overall, fewer people moved at all since the beginning of stay-at-home orders and through June — even with interest in moving on the rise again."

"Among those who have moved, it's unclear how many of those moves will be only temporary. But that doesn't mean there aren't interesting migration takeaways worth following. A select few cities including New York City and San Francisco do seem to be seeing more out-migration than most. But guess where many of those people are going? Other very large metropolitan areas, like Seattle and Los Angeles. Here's what else we know so far."
Venturebeat: Waze launches lane guidance, trip suggestions, traffic alerts, and more
Waze held its first-ever virtual product event on Tuesday morning. The event Waze On included new Waze product updates

I attended the conference and was struck by a few things:

Waze is still the largest live map ever

The platform is prioritizing flexibility for users with its news features, giving drivers the ability to control their trip before they leave.

Waze has added COVID testing facilities and other resources to its app after the pandemic struck.

The team at Waze is extremely passionate about reducing traffic congestion through smart, proven strategies that get cars off the road.

I will be diving into Waze much more in a future edition, so let me know at john@urbantechnews.net if there is anything I should keep in mind or someone I should chat with.
Thanks, everyone for reading this week's edition. Don't forget to share it with your network!
Have a great weekend,
JT