Q&A w/ Culdesac Tempe GM Lava Sunder Pt.1
Why Culdesac is the first post-car real estate developer
Hi everyone - welcome back to Urban Tech! Also, a huge welcome to the new subscribers who joined us in the last week. I'm excited we are about to break 250 subscribers, so please share Urban Tech with someone on your team or a friend. We all have a vested interest in the success of our cities.
I'm incredibly excited for this week's conversation with Lava Sunder, Culdesac Tempe GM. Culdesac is the first post-car real estate developer and builds car-free communities from scratch.
They are building their first project in Tempe. What's super interesting about the project in Tempe is it's the first-ever development agreement at a neighborhood scale requiring zero residential parking. This is a major deal for urbanists and you'll learn why shortly.
A few quick ask before I dive in: 
Please give Urban Tech's Instagram and Twitter a follow to stay up to date on our analysis and updates. 

I've been having a ton of great conversations with companies, investors, and founders lately on how Urban Tech can work with you to accomplish your goals. Schedule a meeting with me, if you're interested in partnering on media strategy, messaging, policy analysis, content writing or digital media.
Let's dive in.
A Long Thing: Q&A w/ Lava Sunder, Culdesac Tempe GM of Culdesac Pt.1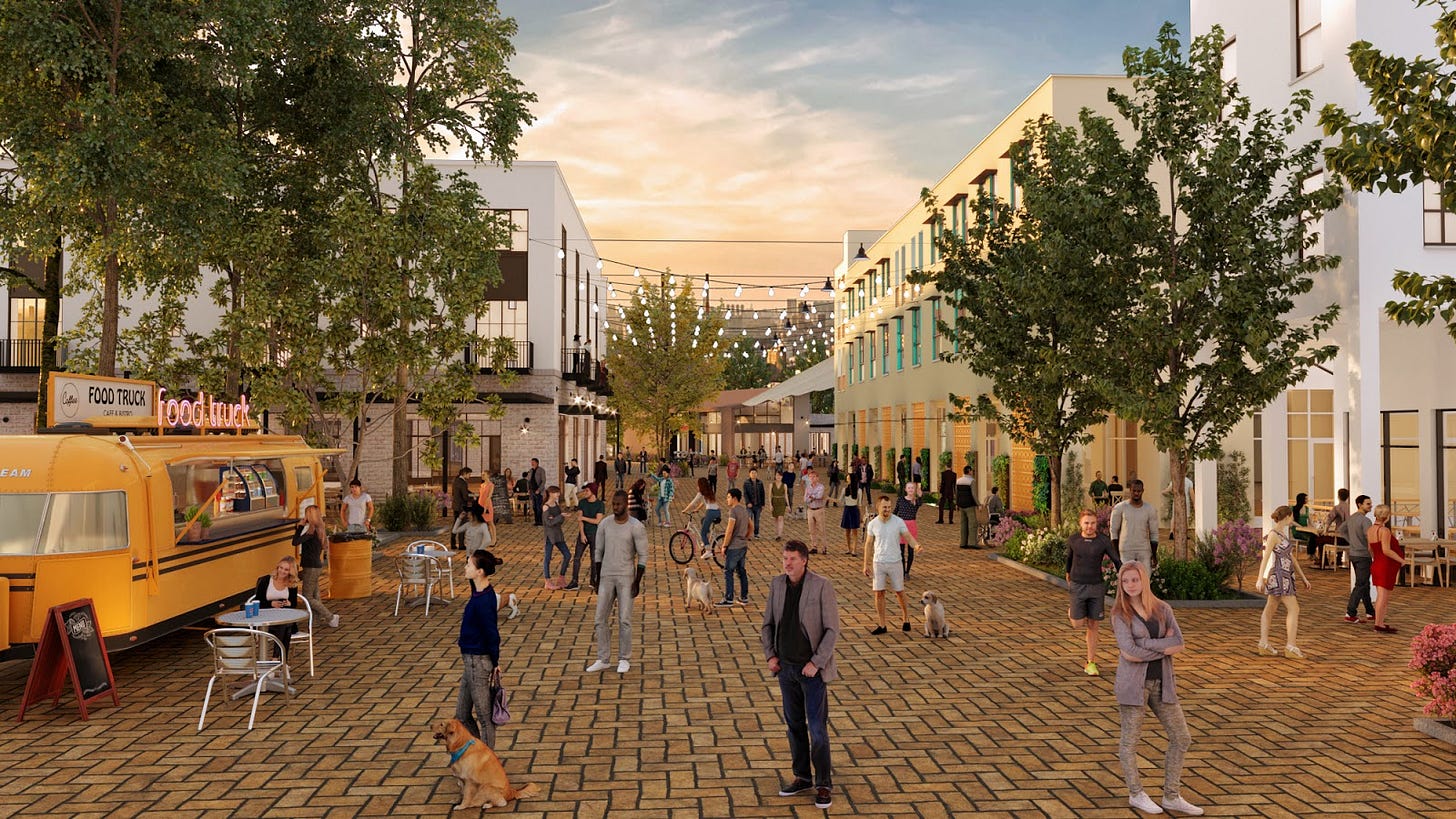 JT: A lot of people who read Urban Tech have likely heard of Culdesac and saw your launch last year, but I'd love it if you could explain Culdesac and the project in Tempe.
Lava Sunder: Culdesac is the first post-car real estate developer, and we build car-free communities from scratch. Culdesac Tempe is our first project and it's the first car-free neighborhood built from scratch in the U.S. So we started Culdesac fundamentally to make cities better for people. 
The global pandemic actually recently has really revealed how much of cities is truly dedicated to cars, which is why we're seeing cities like Boston and Seattle, New York, San Francisco, Oakland, Minneapolis, all temporarily ban traffic on streets and give pedestrians and cyclists extra room for trips and exercise.
Why is it taking a global pandemic to make it safe to ride your bike or safely walk in cities? We think that this should really be the norm. By removing cars and parking, we make room for retail stores, courtyards, parks, and a lot of open community space.  
We also think fundamentally, it allows us to build better, happier and safer neighborhoods. So Tempe specifically, is our first project. It's a 1000 person neighborhood 16 acres and opens in 2021.
JT: Wow, a lot of trends I love about that. This idea of walkable neighborhoods is key. I think in the U.S. unless you've lived in New York or San Francisco. I think that concept is honestly pretty foreign to a lot of people. I grew up in Texas and in Houston, it certainly wasn't a thing. I live in LA now. Certainly parts of it are walkable but not enough. So I'd love to help people visualize what you mean by that. Or are there comparison cities or neighborhoods that you modeled it after to give them a picture?
LS: Sure, when we were originally starting out with Culdesac, we found that 63% of millennials want to live in a walkable neighborhood. So it's an incredibly desired housing product, but only 8% of Americans do live in a walkable neighborhood.
When we think of walkable neighborhoods, everyone wants to live in a place like the West Village, where you have your grocery store around the corner and you can walk everywhere. But since the advent of the car, America has just stopped building walkable neighborhoods. What we think is really important is the transportation innovations that we've seen in the last decade, are really going to drive real estate innovation in the next decade. And these transportation innovations, like shared mobility broadly, and more specifically, ridesharing and scooter sharing.
Now we're seeing the rise of e-bikes. And then the continued innovation of light rail companies and other public transit companies. We really think that that will drive this continued adoption of car-light travel patterns, and then create the continued demand for walkable neighborhoods.
JT: It is a super interesting concept and one that I've definitely written about, and I think of it as the unbundling of the car. I love my scooter in LA. Like when we first met, we both came on two wheels. You brought your e-bike and I brought my scooter.
LS: Just look at the number of people that get driver's licenses. So I think in the 1980s 50% of 16-year-olds had a driver's license. And that number has since cut in half. And it's now only 25% of 16-year-olds. And Lyft publishes a really great annual report. I think that they've had something like 250,000 people give up their cars to use Lyft instead. We're just going to see those trends continue to grow.
JT: Yes, I have friends who have younger siblings and it's just so different. Like when I was 16, I got my license on my 16th birthday and my friends tell me their siblings just aren't interested in getting one.
LS: I grew up in Houston and I had a very similar experience. The moment I turned 16, I got my driver's license. And then my youngest sister is turning 16 next year, she has no plans to get a driver's license. It's not even on her top 30 things that she's thinking about as a 16-year-old in 2020.
JT: There're plenty of people who grow up in New York City and not having a driver's license is super common. But it will for sure become much more common in car-focused cities like Houston or LA. So I'd love to kind of shift gears a little bit and dive a little bit into kind of what your role is at Culdesac. What do you oversee?
LS: So I am the general manager of Culdesac Tempe, which means I oversee the marketing leasing of the project, partnerships, and then the site design and operations.
JT: How many employees do you have and what is your fundraising status?
LS: We have 20 employees and we announced $10 million in fundraising in 2018. The round was led by Khosla Ventures. Other investors include Initialized Capital, Bessemer Venture Partners, Zig Capitalism, Floodgate and more. We also have investments from five CEOs of mobility companies.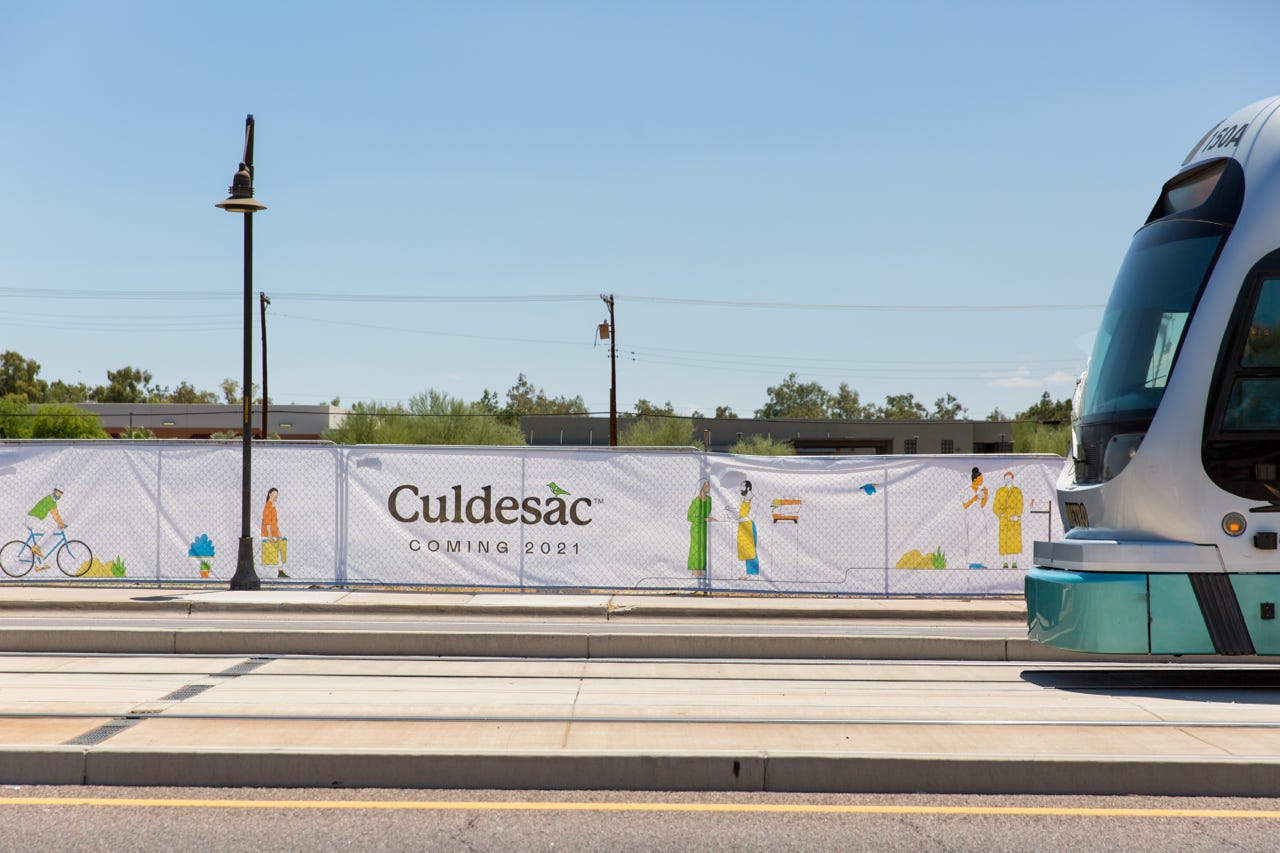 JT: What made Tempe super exciting for Culdesac? Why choose it for the first site and in your role what about Tempe is resonating with people?
LS: That's a really great question. We have been really excited about Tempe as a partner for us. We chose Tempe for a few reasons. We chose it for its thriving job market. And, you know, proximity and availability of public transit, and the forward-thinking local government. 
I've been really pleased with how collaborative the government has been. So one of the things about Culdesac that I think is coolest is actually a development agreement that we passed with the city of Tempe — It's the first development agreement between a developer and the city to build a neighborhood scale development with zero residential parking. As someone who follows urbanism, you'll understand how revolutionary that is because of how prevalent parking minimums are in the US. And Tempe jumped on board. 
They are very visionary for what they want the city to look like. You know, it's also a city that's close to the hearts of many people on the Culdesac team. So we have probably, almost half of our team went to ASU. Both Ryan and Jeff are the co-founders and are third generation and fifth-generation Arizonans, respectively. So it's very much a city that many people on the team hold dearly.
JT: I can imagine especially for your first project that certainly helps. When I've talked to other companies about why they choose their first city and they say similar things. Relationships are incredibly important for building and development. The minimum parking aspect you mentioned is super interesting. 
It's certainly something that a lot of planners I talked to are adamant is one of the biggest ways outside of just rezoning to try and get more land unlocked for housing. It was a big deal when Houston cut their requirements in 2019. It is truly revolutionary to have a deal done with zero parking requirements at a neighborhood scale — cities don't do that.
LS: I think for the urbanists out there. That's the part that they're always most surprised and excited by. We hope that we can show it's possible to build car-free. And Tempe working with us, shows cities and developers across the U.S. it's possible.
JT: What drew you to Culdesac? Was it just the vision for the company or was it relationships with the team?
LS: Yeah, I would say. I mean, I think like, aside from the people who are really incredible, and I think the culture that we've developed at Culdesac is truly one of a kind. I think it is incredibly important when you're building a product that will touch such a full part of people's lives. I think the mission to make cities better for people is really what drew me. 
I think it's really such a bold mission. And I think the central thesis of Culdesac which is that transportation and real estate, working together is the best way to transform cities is a thesis that I'm really excited about. 
It's very inspiring to be on a team that realizes that there's really never been a more important time to create opportunities to really maintain human connection. 
I'm also just really inspired by the broader vision of Culdesac. We believe that car-free cities are a when not an if, and I think we're going to be the first to build them. Culdesac Tempe is just our first development, there's no reason why our next project can't be a billion-dollar project in the size of a city.
JT: Yeah, for sure. For these types of developments, once you prove out the model, that's the hardest part. 
So I'm curious. You mentioned transportation and real estate touching. And I think that's something I see a lot of. Really transportation, real estate and logistics are the three themes that come up the most in Urban Tech. I'm curious about what major trends in those spaces are you following?
LS: I think the biggest trend that we're super excited about is e-bikes. Especially since the pandemic, there's been an explosion in the popularity of e-bikes. We're super excited about it as a team. I was speaking to a bike shop owner the other day and he was saying that e-bikes are introducing Americans to the idea that bikes are not just for recreation, or for short commutes, but they can also be used to transport groceries and carry toddlers and you can make local deliveries without being crazy fit.
One of our founding team members, Vanessa actually rode her e-bike to get ice cream with two kids while she was nine months pregnant. So it's really just amazing how well e-bikes are doing.
You can look up the stats, but I think like, Rad Power (an e-bike manufacturer) sales tripled compared with the year before. We're really excited about it. I think the team owns more than 20 bikes total. across all of us. I think it'll be huge.
JT: That's awesome. I know quite a few people getting e-bikes who are loving them.
A huge thanks to Lava for giving the time! You can read the rest of my conversation with her in next week's edition. Also, if Culdesac's mission resonated with you, they are hiring for various roles.
What I'm reading this week:
Bloomberg: Facebook campus hotel a bet on bright future for business travel
Bloomberg's Patrick Clark explains why some are betting on hotels making a  big return for business travel.

"Corporate travelers, typically back on the move after Labor Day, are still hunkered down at home, with little telling when they'll start seeing clients again or if the embrace of video conferencing will end the need to get on the road at all."

"CitizenM, a Dutch lodging brand backed by Singapore's sovereign wealth fund, is moving ahead with plans to open its tech-forward boutique hotels across the U.S. It's a bet that remote work will actually increase the need for employers to bring scattered staff together."

"Technology and finance companies were already decentralizing operations before the pandemic, pushing citizenM to fill its development pipeline with projects in Boston, Seattle and San Francisco, among other cities where far-flung teams are likely to gather. Earlier this summer, with most travelers grounded, it signed a deal to build a 240-room hotel adjacent to Facebook Inc.'s Menlo Park, California, campus."
CNBC: The Athletic says it hits 1 million subscribers after surviving sports shutdown
Sports and cities are intrinsically linked. The Athletic's model of subscriptions looks to reimagine how we interact with local and national sports.

"The Athletic has weathered a months-long sports shutdown as subscribers have stuck with the sports website and application."

"The Athletic is developing new product enhancements, including a new front page and breaking news elements, to better compete with ESPN.com."

"The Athletic is typically adding more subscribers per day than ever and has reached the 1 million subscriber milestone, co-founder Alex Mather said. While Netflix and Spotify are the gold standards of subscription media — each with over 100 million global subscribers — few news companies have more than 1 million subscribers. The New York Times topped 5 million digital subscribers earlier this year. The Wall Street Journal crossed the 2 million mark in February."

1 million subscribers is a big deal, but The Athletic will have to prove it can actually make money. Milestones like this do satisfy investors and show the model is working, partly, but it will need to make the entire equation work at some point.
Forbes: Yandex Self Driving Group Gets $150 Million, Will Bring Autonomous Vehicles To U.S.
"On paper, a lot is happening with Yandex's self-driving vehicles. Yandex, a Russian multinational company that specializes in Internet-related products and services and sometimes called the Google of Russia, will spin-off its autonomous vehicle business and form a new company - Yandex Self Driving Group B.V. (or Yandex SDG) with Uber."

AV technology is incredibly expensive to develop and Uber, now at the mercy of public markets, has shown it's looking to work with companies to develop the technology rather than do it on its own.
Venture Beat: Portland City Council votes to ban facial recognition technologies in public places
"The Portland, Oregon City Council unanimously voted to adopt two of the strongest bans on facial recognition technologies in the U.S. One prohibits the public use of facial recognition by city bureaus, including the Portland Police Department, while the other bans all private use in places of "public accommodation," like parks and buildings." 

"The ordinances originally contained an amendment that would have allowed airlines in partnership with U.S. Customs and Border Protection to collect facial recognition data on travelers at the Portland International Airport. But the proposals voted on today make exemptions only for Portland public schools."

Facial recognition is one of the most controversial technologies out there and cities are filling the void for regulation and rules for the road. Check out one of my first posts, on facial recognition use in cities and Amazon's moves to hit pause amid social pressure.
The Verge: Uber pledges to shift to '100 percent' electric vehicles by 2030
"Uber announced Tuesday that "100 percent" of rides will take place in electric vehicles by 2030 in the US, Canada, and Europe, and by 2040 for the rest of the world. But rather than pay drivers directly to trade their gas-burning vehicles for electric ones, the company will impose an extra fee on trips completed in an electric vehicle to incentivize drivers to make the switch."

I covered Lyft's June announcement of a similar green fleet strategy earlier this summer and asked how long it would take for Uber to follow suit? It didn't take that long, and Lyft has been much more ambitious than Uber in environmental goals over the years.

I will have more analysis next week and will have thoughts from other mobility companies in the space.
Thanks for reading this week's edition — have a great weekend!
JT