Construction's Big Productivity Problem
Palantir's Controversial IPO, Amazon Physical Growth, RIP Gerald Hines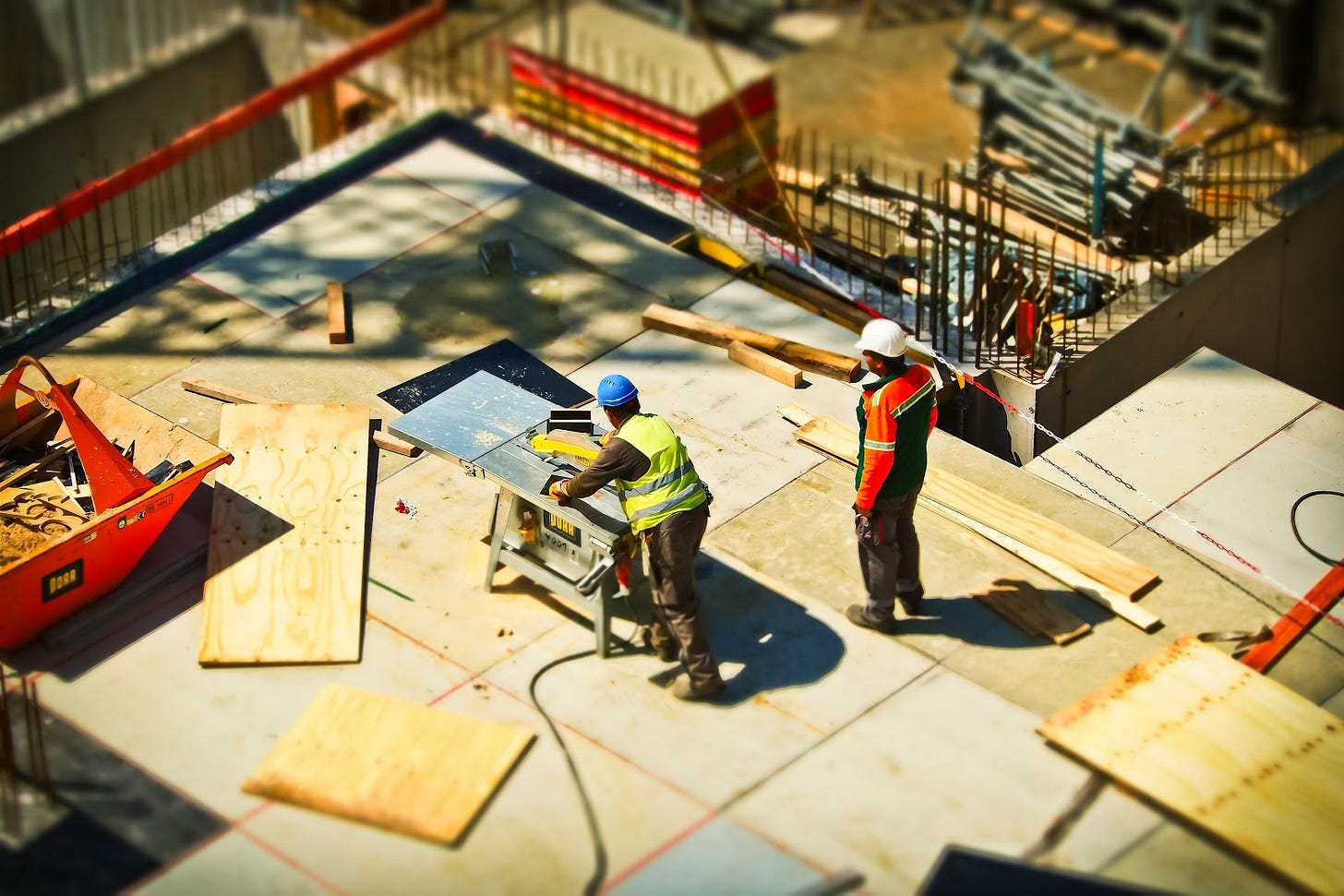 Hi everyone - welcome back to Urban Tech! Been an exciting few weeks here and I'm pumped for this week's edition where I'll do a deep dive into why construction and building in the U.S. have a productivity problem and some of the companies trying to fix it.
Please continue to share Urban Tech with folks you know! We have a lot of exciting stuff coming up including our next Q&A with Culdesac's Tempe GM Lava Sundar (Culdesac is building the first car-free neighborhood built from scratch in the US; slated to open next summer); this week I gave a presentation to a mobility company explaining the role of public affairs in mobility; and am having lots of conversations with teams for projects, conversations and collaborations.
Email me at john@urbantechnews.net or book a meeting with me if you want to chat about how we can work together.
A Long Thing: Construction's Productivity Problem
We have a current deficit of 2.5 million homes in America. One of the biggest reasons besides zoning policies that lock land into single-use functions, is that it's really expensive to build in the U.S. Despite all of the technology and tools that have been developed, construction and building have reaped very few of the rewards compared to other industries.
For example, let's look at California, the epicenter of the housing crisis. It costs roughly $500,000 to build an affordable unit of housing in Los Angeles. And in the Bay Area, that number starts at $600,000 and quickly increases depending on the city. However, This trend isn't unique to California. Rising building and construction costs plague cities across the country.
From McKinsey:
The construction industry employs about 7 percent of the world's working-age population and is one of the world's largest economy sectors, with $10 trillion spent on construction-related goods and services every year. But the industry has an intractable productivity problem and, according to Reinventing construction: A route to higher productivity, a new McKinsey Global Institute report, an opportunity to boost value added by $1.6 trillion.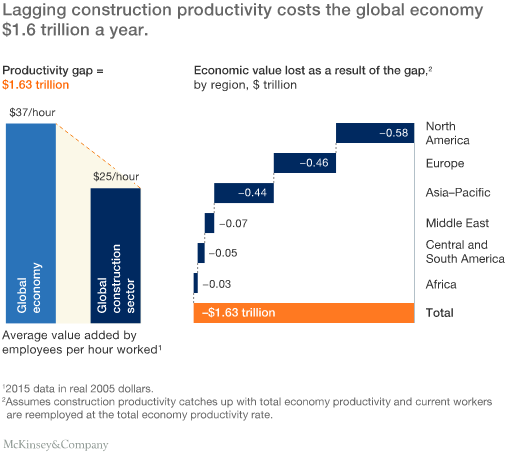 Before diving in too much deeper, I think it's important to outline the structure of the construction industry as this is crucial to understanding why there is a productivity problem. When dealing with a construction project, a lot of different parties are involved. For example, just building a house, would involve a builder, an architect, and a designer at the highest level. The builder then would work with various subcontractors for different parts of the project like plumbing, electrical, and drywall. Then there are the various vendors the subcontractors work with to get the materials they need. Every person involved, including vendors, is trying to maximize their margins and value on each project they do. So it's not easy to see how in the end the customer pays a steep cost. This dynamic plays out on almost every construction project.
Something made very clear through examining data and speaking with experts is without progress, global and US needs for infrastructure and housing will be impossible to meet. Despite the well-known challenges in construction, progress is still underwhelming.
From talking to experts and people working to optimize efficiency, some of the biggest reasons productivity is lacking:
Shortage of skilled labor

Forbes: "In the US alone, there are 434,000 vacant construction jobs as of April 2019, according to the US Labor Bureau. It's important to note that this isn't just an existential threat. Over the past few months, I've interviewed several construction managers who say that the shortage is felt on site daily. Contractors have been forced to pay subcontractors higher wages, often waiting for talent to become available - ultimately slowing down jobs across the country. Many attribute this to the 5.86% construction cost increase in 2018, cited by the Turner Building Cost Index, to this labor shortage."

Structural Inefficiency and Competing Interests 

Something that came up frequently is that economic incentives in construction create huge tensions between parties and also force them to raise their prices to compete. When everyone involved with a project is incentivized to act in this way, it can't help but increase costs and impact consumers in a negative way.

CEO of Atmos, Nick Donahue, gave me insight into how complicated structure was for custom builds: "Most track builders have project managers and superintendents that are broken out for your mom and pops builder during ~10-30 builds. It's usually one person who's both managing the builds and the customers." 

Nick echoed similar sentiments that Avvir CEO, Raffi Holzer shared. They both spoke to the pressure on everyone involved in a project competing for their sliver of profits. This naturally creates tension and raises prices.

Technology silos

Kwant.ai's Head of Growth Kelsey Poinsatte-Jones explained: "Reality capture technology, such as robotics, laser scans, AI image recognition, 360 video site walk, and drones, offer myriad productivity and safety improvements. However, reality capture data is often siloed and overlapping. Owners, contractors, and insurance companies must first establish their use case scenarios, available tools, and integration requirements".

With so many different players involved in the process to build one project, let alone at scale for thousands of projects, its staggering how many different tools, systems, and processes are used. Ultimately this hurts productivity at a macrolevel and makes it difficult to reap the benefits of systems that are built on the premise of aggregation to make smarter, analytically defined decisions.
So we know there is a problem, but what are folks doing to solve it? Below is a summary of categories or solutions for reducing the costs of building. For this piece I focused predominantly on residential construction but, I think the learnings can be applied to commercial construction.
Solutions
Prefabrication and Modular Building

Kelsey from Kwant.ai explained, "modular construction is the bridging of the factory and the field, relying on manufacturing-style production systems and pre-fabricated components that are produced off-site with minimal on-site assembly. The June 2019 McKinsey report on modular construction shows that modular construction can lead to a 20-50% accelerated schedule in development."

Nick Donahue, CEO of Atmos building, shared that prefabrication has been a productivity driver for residential builders for some time now.

These benefits are being realized in places like China during the recent Coronavirus outbreak where 2 hospital buildings with approximately 1,000 beds each were constructed in 10 days. These blueprints were used during the SARS outbreak in China in 2003, in which a 1,000 bed facility was constructed within a week.

Keep in mind: In theory this technology would be the biggest driver of scaling builds in a cost-efficient manner, but it's the hardest technology to innovate and companies are still figuring it out with various levels of success.

SaaS platforms and IoT technology used to help with project management, analytics, forecasting and decision making.

Kwant.AI and the team there are working on this type of product on the building side. Kwant's CEO Niran Shrestha described the company as a way to, "promote the implementation of manufacturing-style lean principles and increased automation using sensor technology to improve productivity in the field. We work with system-level players including owners, contractors, and subcontractors to transform manual systems with real-time reporting and predictive analytics for improved safety and productivity on the jobsite."

Atmos is a company tackling this from the customer side, drastically simplifying the process for customers. Atmos CEO Nick Donahue explained to me the company is a platform for custom home building that sits between customers and builders. Atmos is able to provide value to customers by simplifying the building, design, and information flow. They are also able to provide huge value to builders because they no longer need to manage customer relationships, which are a huge endeavor. Builders in the end don't like to take the time and resources to handle the very extensive customer management process, which Nick explained is a huge value proposition for Atmos.

Automation tools

Automation has been a game-changer in manufacturing, logistics, and supply chains. These industries are dealing with many of the same labor issues as construction, yet have figured out ways to harness the power of automation and robotics to make work more productive. I caveat this with the point that construction environments are much more complex to build automation systems for. But, there are tasks like moving materials that could be made easier and safer.

To me, automation best serves workers and companies when it ultimately leads to upleveling the work humans do. What I mean by this is humans in these industries have to do lots of boring, tedious tasks for hours a day. Boredom on the job is one of the leading causes of injuries in construction and warehouses. We either have the capabilities now or will in the coming decades to allow automation to take over the work humans aren't very good at. 

My hope is this will also lead to upskilling and upleveling the work and skills of the labor using these tools. They will become automation and machine experts in crucial industries for America to succeed in the coming decades.
McKinsey predicts:
"Nine shifts will radically change the way construction projects are delivered—and similar industries have already undergone many of the shifts. A combination of sustainability requirements, cost pressure, skills scarcity, new materials, industrial approaches, digitalization, and a new breed of player looks set to transform the value chain. The shifts ahead include productization and specialization, increased value-chain control, and greater customer- centricity and branding. Consolidation and internationalization will create the scale needed to allow higher levels of investment in digitalization, R&D and equipment, and sustainability as well as human capital."
Ultimately, the reward of optimizing productivity in construction is too great to ignore. A lot of companies, some I spoke to for this piece, are working on the problem. But, it's a really hard problem to tackle as I explained. I'm hopeful that with lots of smart people and resources progress will be made sooner rather than later.
Exciting Companies in the Space 
Summary: A platform for the custom home building process. Atmos manages customer relationships and lets builders focus on building. On the platform, a user enters a location for their home and a floor plan, then Atmos finds builders that best match the plan and coordinate the rest of the tasks to get the home built. It's targeting homes in the $400,000-$800,000 range, and right now is working in Raleigh-Durham, Charlotte, Atlanta, Denver and Austin.

Funding Status: According to Atmos, $2 million from Sam Altman,  former YC president and now head of OpenAI, and Adam Nash, former president and CEO of Wealthfront. Other investors: 

Employees: 1-10

Interesting Notes: Atmos is in this year's YC batch. Nick comes from a family of builders. Nick told me that Atmos started as a company focused on VR and came to its current focus through Nick thinking what the home experience will be like in the coming decades.
Summary: Katerra is a technology company optimizing every aspect of building development, design, and construction. The company delivers a comprehensive suite of products and services for clients. This offering is possible because of Katerra's distinct model which combines end-to-end integration with significant investment in technological and design innovation.

Funding Status: $1.3B over 11 rounds, Softbank is one of the company's largest investors.

Employees: 5,000-10,0000

Interesting Notes: Katerra is a company really working to innovate building through things like modular construction and prefabrication. The company has had plenty of well-documented ups and downs. Katerra did not return a request for comment for this piece.
Summary: Factory_OS, through modular construction and building homes in its factory, can build well-designed, tech-ready multifamily homes 40% faster and 20% less expensive than conventional housing. They do this by building the bulk of the home off-site, right down to the toilet paper holders. Then they ship it and assemble it on-site.

Funding Status: $22.7M 

Employees: 51-100

Interesting Notes: In his fantastic book on housing, NYT's reporter Conor Dougherty explored Factory_OS and their method in a chapter.
Summary: Social Construct through a combination of technologies turns the construction site into an efficient assembly line. This results in saved time, higher quality products, and a smoother experience from the first day of design all the way to operations and maintenance.

Funding Status: $17.7M 

Employees: 11-50

Interesting Notes: TechCrunch did a great feature on the company and technologies powering it. The company is a Y-combinator alum.
Summary: Augments BIM intelligence with regular laser scans of your construction project. Our software compares the scans against the BIM and identifies any variances between the design and reality. We then extract real-time insights that help the development team stay on schedule and under budget.

Funding Status: $2.5M

Employees: 1-10

Interesting Notes: Raffi, Avvir's CEO, explained to me Avvir is helping align competing interests in construction and provides general contractors with the data-driven information they need to lead progress effectively.
Summary: Kwant.ai forecasts and minimizes cost, time, and safety risk on construction and manufacturing sites. Kwant uses enterprise SaaS platform and the Internet of Things (IoT) wearable technology in order to automate real-time schedule, cost, and safety information for predictive, data-driven decisions. 

Funding Status: Undisclosed

Employees: 11-50

Interesting Notes: Kwant's CEO Niran told me they are, "already active on 40 job sites including Jacobs, DPR, Walbridge, McCarthy, Mortenson and Delta's Construction Management Group in projects such as Merck pharmaceuticals, Laguardia airport, CDC Hospital, and Microsoft Data Center. More than 5000 workers actively use t smart badges and wearables everyday including several trade-unions."
What I'm Reading This Week
The Los Angeles Times: In IPO filing, Palantir bashes Silicon Valley surveillance
One of tech's most controversial companies that most people haven't heard of is going public. 

"In a regulatory filing setting the stage for its initial public offering of stock, the Palo Alto-based data analytics company Palantir offered a glimpse at its finances — and a manifesto against Silicon Valley tech companies."

"Much of the filing covered expected ground. Palantir, which counts the Los Angeles Police Department and U.S. Immigration and Customs Enforcement among its clients, disclosed that it has been losing roughly $580 million a year for the last two years, and used the filing to make the case for why investors should ignore the red ink and buy its stock once the company goes public."
TechCrunch: Amazon is rolling out a new AR shopping tool, Room Decorator, that lets users see multiple pieces of furniture and other home décor in their own space
"Amazon  is rolling out a new augmented reality shopping tool, Room Decorator, that will allow you to see furniture and other home décor in your own space." 

"While the retailer had experimented with AR tools in the past, what makes Room Decorator different is that it's capable of virtually adding multiple products to the room at the same time. That means you can visualize how a whole set of new products could fit together in your own space, not just a single item."
The Information: Amazon's Massive Spike in Delivery Stations Poses Threat to USPS
"Delivery stations are opening faster than other Amazon facilities. They operate like local post offices where drivers pick up packages. Expansion could lessen Amazon's reliance on U.S. Postal Service."

This story compliments one that The Information's Anissa Gardizy wrote about GoPuff over the summer. Both give you a good idea about what is powering urban logistics and what the future will increasingly look like.
Commercial Observer: Hines Founder Gerald D. Hines Dead at 95 – Commercial Observer
One of the most impactful commercial developers of the 20th century passed away

"Gerald D. Hines, who turned a one-man real estate office in Houston into the global developer Hines, died last night at his home, Hines announced. He was 95"

"Hines' eponymous real estate firm grew to have 4,800 employees and has worked more than 907 projects in 25 countries around the world, according to the company. Its founder helped shape Houston's skyline and is the namesake of the city's landmark 64-foot-tall water wall, which Hines built as part of the Williams Tower in 1983, but later sold to the city to become a public park."

Hines' impact was massive on my hometown of Houston, but he also had a major impact on NYC and cities around the world.
A huge thank you to everyone who helped me with this week's piece. Your insights were invaluable and greatly appreciated. Until next week, peace ✌️
JT