A Deep Dive on Waze and What Makes It Special
Why beating traffic doesn't have to be a moonshot idea
Hey there everyone, John here. Happy Urban Tech Thursday — my personal favorite day of the week. I'm thrilled for you to check out this edition. For this week's long thing, I'm doing a deep dive on the navigation platform Waze.
Waze is a company that many of you have heard about. They've been around for some time and were bought by Google in 2013 for over $1 billion. If you don't know what makes Waze truly special, its model for navigation updates and traffic updates is entirely crowdsourced from its over 140 million user community.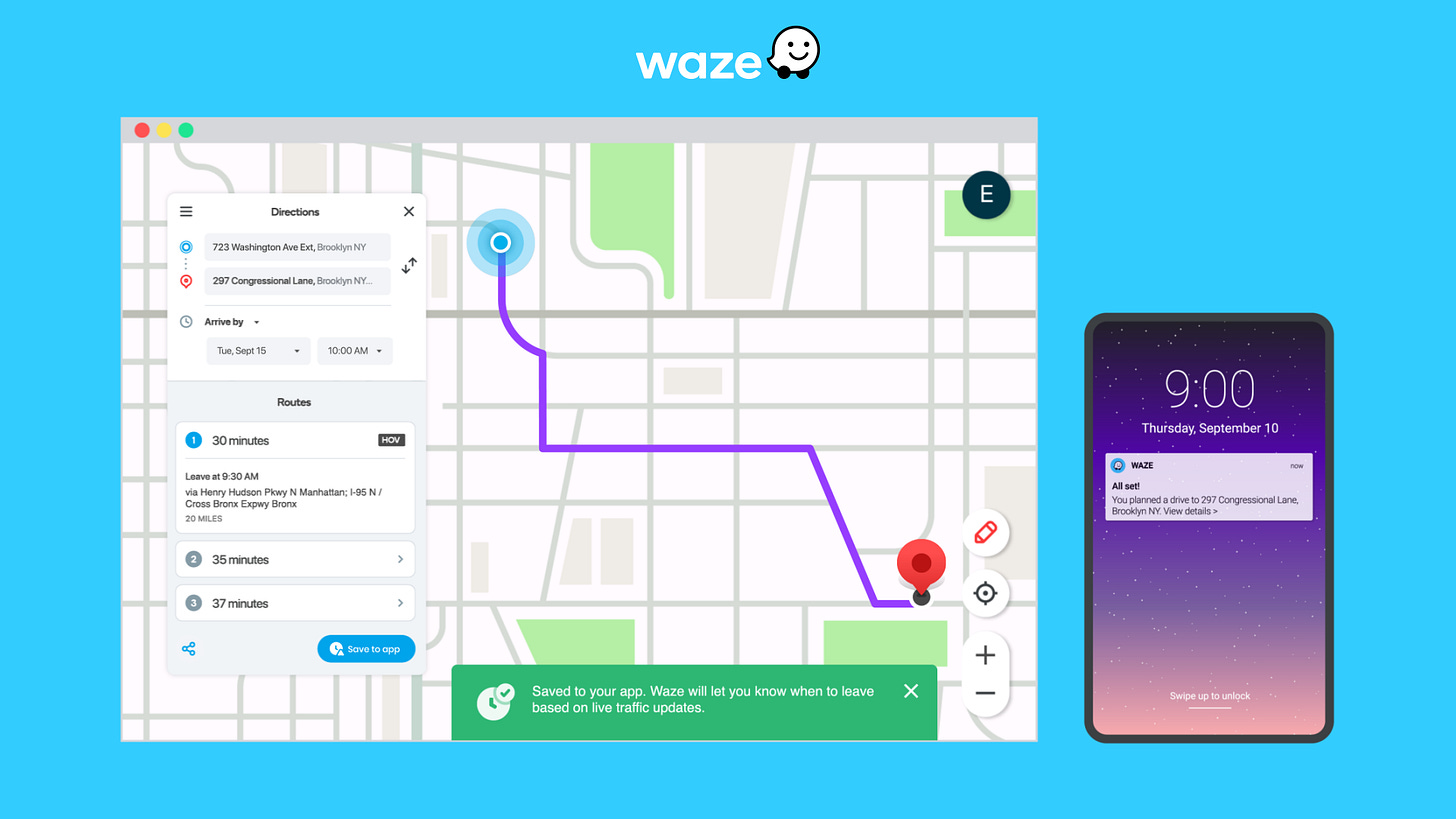 The thing I love about Waze — besides that its map is the best for saving time in traffic — is the company's vision incorporates traditional urban planning ideas with new technology and innovation. Most of the companies I look at for Urban Tech fall in one camp or the other. There's a natural tension between urban planners and technologists. This tension is something I'm planning to cover in a future edition so stay tuned for a more detailed explanation of these themes.
Waze is also a major partner with cities, transit authorities, broadcasters, first responders and more. The app is the perfect example of a company building a product to be a good steward of cities. A characteristic I think is crucial for urban tech companies to have a positive impact on cities.
Before I dive into why Waze, a couple small asks:
Please share Urban Tech with your friends, family, and colleagues! We are growing quickly, and the Urban Tech community has been the key driver of our growth.

Give us a follow on our social handles: Twitter and Instagram. Also, you can follow me on Twitter @JohnThomey.
Quick note: For the purpose of this piece I'm going to refer to Alphabet solely as Google in all instances given the history of Waze's acquisition. I think it's pretty confusing to distinguish between the two for this piece.
A Long Thing: The World's Largest Living Map
Before going too far down the Waze rabbit hole, if you don't know what it is, Waze's core product is:
A free GPS navigation software app, powered by a crowdsourcing model. The platform works on smartphones and tablets with GPS support. Waze provides turn-by-turn navigation information and route details. Waze has also grown into much more than a navigation app, but more on that later.
Waze has over 140 million users across the globe.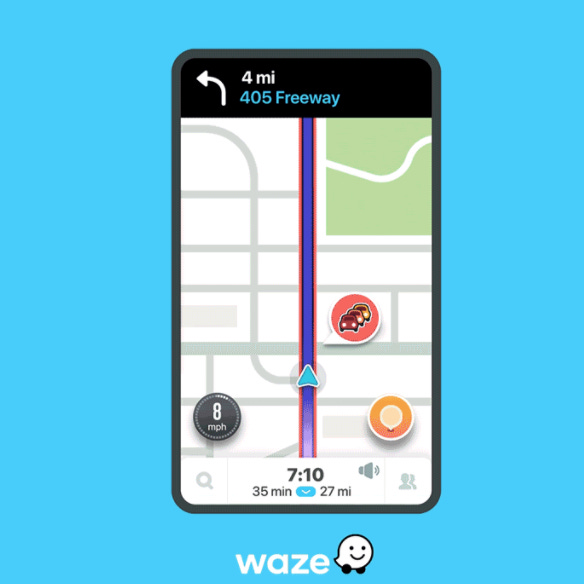 Think about that. Waze's platform is the largest living map in the world powered entirely by community insights. Here is what the different roles look like that power Waze. 50,000 volunteers keep Waze's product going.

This community that powers Waze is truly incredible. From navigating the complexities of manually mapping thousands of toll booth locations and prices in 40 countries, to adding critical data to the Waze map in the midst of the COVID-19 outbreak helping Wazers get where they need to be. Waze's community has always set it apart from other navigation apps and that is no less true today.
Waze's founding story leading up to the Google acquisition is also super interesting. Waze's connections to Israel where it was founded remain strong today. Israel is still one of Waze's most active markets.
Waze's Backstory
Waze was founded in 2007 in Israel by a team of engineers trying to solve a problem for free that has plagued us since cars became ubiquitous: traffic. Waze started as a project in 2006 called FreeMap Israel, which aimed to create, through crowdsourcing, a free digital database of the map of Israel in Hebrew, and to ensure it updated and distributed to users. A few local Israeli Investors funded the company and that was all the runway the lean team needed for several years.
Waze's team truly believed that by working together we can beat traffic. The idea also came at an incredibly crucial inflection point for mapping and GPS technology — the iPhone and mobile computing were about to be in the hands (or cars) of millions of users and within a very short time, billions of people had phones with the technology for a company like Waze to gain remarkable momentum.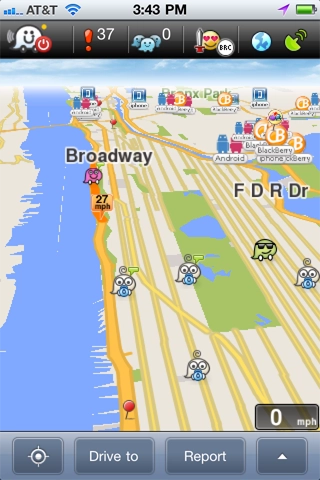 By 2010, Waze really started to take off, leading to the company raising a Series B round of $25 million from major firms outside of Israel. Silicon Valley came knocking. The next year the company would raise its final venture round before the exit to Google in 2013.
Waze as a Business
I know what you're probably thinking: this is cool, but how does Waze make money if it's free? It's a business after all.
Waze's business model thesis was that as it scaled, it would be able to serve its community ads from local businesses. If that sounds familiar, it's the same model that Google Maps, Yelp, and plenty of other mapping companies also use to generate revenue.
I've discussed in Urban Tech previously why maps are the new search box. It's something I still think is undervalued by a lot of people. Here is the best explanation from a piece Jesse Hempel wrote for WIRED in 2018:
"Uber isn't alone in its quest to turbo-charge maps: On your phone, the map app is the new search box. Uber, like a lot of companies, anticipates that mapping will become the way that people merge their digital and physical lives: a real-time search function for the world immediately around you. But that means maps are about to become a lot more sophisticated. 'The level of detail and precision...are core to what we do,' says head of product Manik Gupta, who spent more than seven years working on Google Maps before he defected to Uber."

"Search has always been partially about location: if Google knows you are in Indiana, you'll get more meaningful results when you type 'today's weather' into your laptop. Traditionally, though, the physical and digital worlds have been divided. You use search when you need information, and a map when you need to get someplace."
Apple and Google, worth a combined $2.98 trillion, are both all-in on maps. I think that should tell you something about their importance to consumers around the world.
The synergy of Waze's model — combining maps with search — in retrospect makes the decision by Google in 2013 to acquire it for over $1 billion dollars seem like a layup. Google, which has multiple geographic/mapping products (including Google Earth and Google Maps), also has a keen interest in improving how we experience cities. SidewalkLabs, a subsidiary of Google, is entirely focused on this idea. Not to mention Waymo, Wing and other moonshots.
Waze's Head of Public Partnerships Dani Simons explained to me the key differences between Waze and Google Maps:
Google Maps and Waze share certain features, but they offer different benefits. Waze has built a passionate community of drivers who connect with one another to save time and avoid hazardous traffic and weather while on the road. Waze is the ultimate companion for a driver - we are constantly developing hyperlocal features like license plate routing, hazard alerts and even shelters during natural disasters. And our community of volunteer map editors give us the local pulse of mobility, inspiring product decisions and expediting our response rate in a crisis. Google Maps provides useful driving directions, and even integrates the incident reporting Waze users provide, but it offers much more than just navigation features. You can explore the world with amazing imagery from Street View, get useful public transit information or walking directions, check out nearby restaurants and attractions once you arrive at your destination, and more.
The products fill very different needs for users and even work together in a useful way. When Google acquired Waze here is what Stratechery writer Ben Thompson concluded:
Big Winner: Waze

This is an incredible exit for a company with only ~17 million active users and negligible revenues. Waze is a great product – I'm a big user – but it was ever only going to be a niche player. Maps are too integrated into every mobile platform, and if a user is dissatisfied with the default app, Google Maps is a readily available option.

Moreover, the value of mapping comes not from direct monetization, but from the signal it sends about users and their location; the monetization comes via targeted ads on other devices and in other apps.

Waze was never going to build out this cycle, which limited their direct revenue options to incredibly annoying pop-up ads that distracted from driving.

Still, you are worth the price someone will pay, and Waze did a tremendous job playing Google, Facebook, and Apple off of each other. The price is justified.

Winner: Google

Google claims Waze will remain independent, and why not? The actual product doesn't matter to Google at all. Rather, this was all about moat building. As I've written previously, Google dominates the signal-to-ads cycle because they have both the best signals and the best ad delivery platforms.

Facebook is probably their closest competitor for the advertising side of that equation, but their signal, particularly in mobile, is much weaker. Buying Waze so that Facebook can't is a victory all by itself.
Ben also concluded Apple missed out on not buying Waze, but the synergy with Waze's ad-focused model and Google's entire expertise made it too good of a partnership for both parties. Apple historically has also shown it really has no interest in advertisements as a revenue stream. Apple, even in 2013, was laying the groundwork for its current subscription focus. Google's cloud computing resources are also a huge asset for a platform like Waze to save costs.
Where is Waze in 2020?
Waze currently has roughly 140 million users in 185 countries. The company has steadily evolved its platform and offerings to include things like: a carpooling service, brand partnerships, predictive trip guidance and much more.
COVID's impact on mobility and cities has certainly had a negative impact on Waze in the short run. The company acknowledged since the pandemic started it has seen a decline in its business. In April, Waze laid out in a blog post just how severely some of those numbers are falling. Globally, Waze customers drove 60 percent fewer miles in March, when lockdowns started going into effect, as compared to February. Italy specifically saw the biggest drop at 90 percent. The US was also down by about 60 percent. But Waze continues to innovate.
A couple of weeks ago, I attended a virtual event hosted by Waze to announce new product and community updates. The updates included:
New features that anticipate and respond to users, giving them more flexibility in their travel. These new features: Trip Suggestions and Notifications, improved ETA calculations and Lane Guidance.

Google Voice is now integrated into Waze. Amazon Music is also going to be integrated with Waze soon.

Waze explained how its ecosystem impacts more than 2 billion citizens and the cities they live in. From cities and transit authorities, to partners across Carpool, product, advertising and brands, these groups come together with Waze to solve the challenges of mobility at a global scale.
Personally, I loved discovering Waze's carpooling app at the event. The thesis for carpooling is Waze "could bring the same quality of service as a rideshare but at a lower price point because the drives are happening anyway." The idea is perfectly aligned with Waze's mission to beat traffic together. Here is a visual representation that drives it home: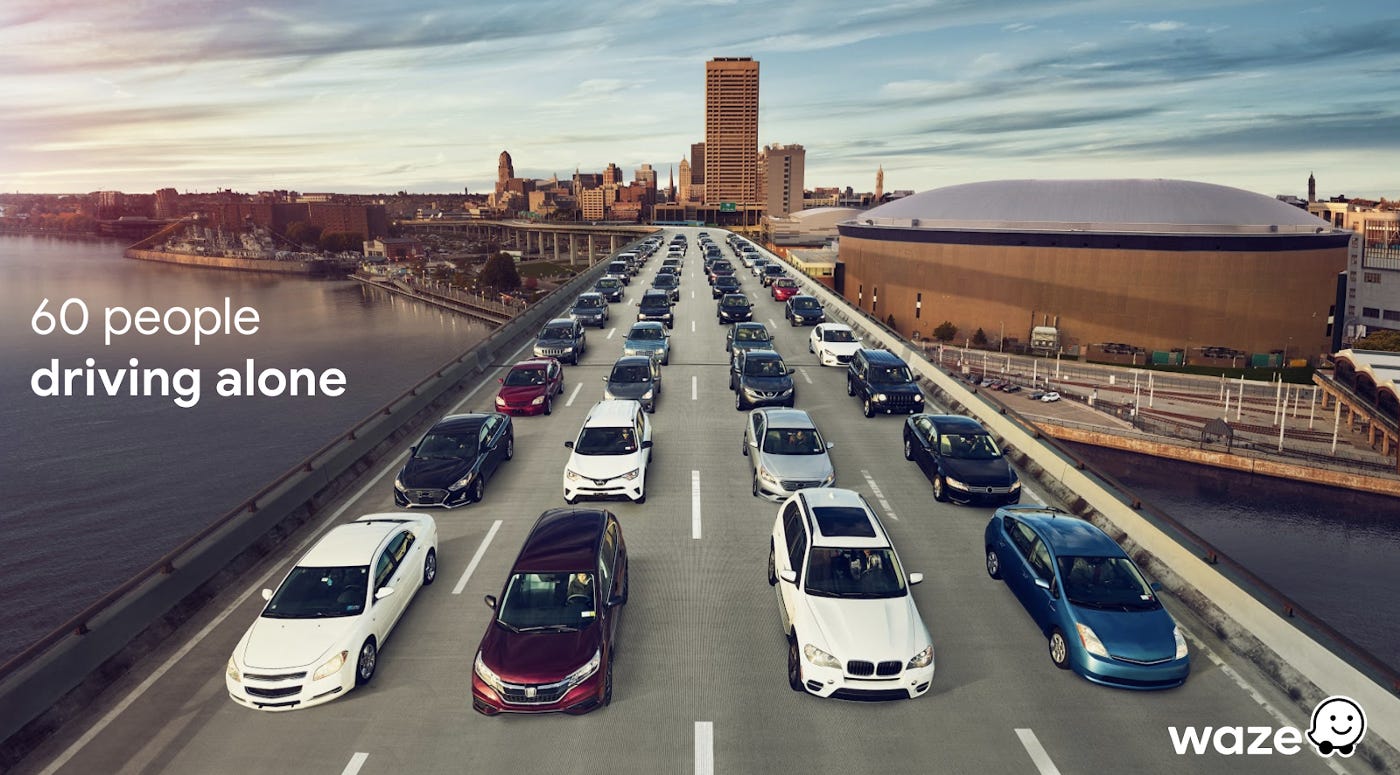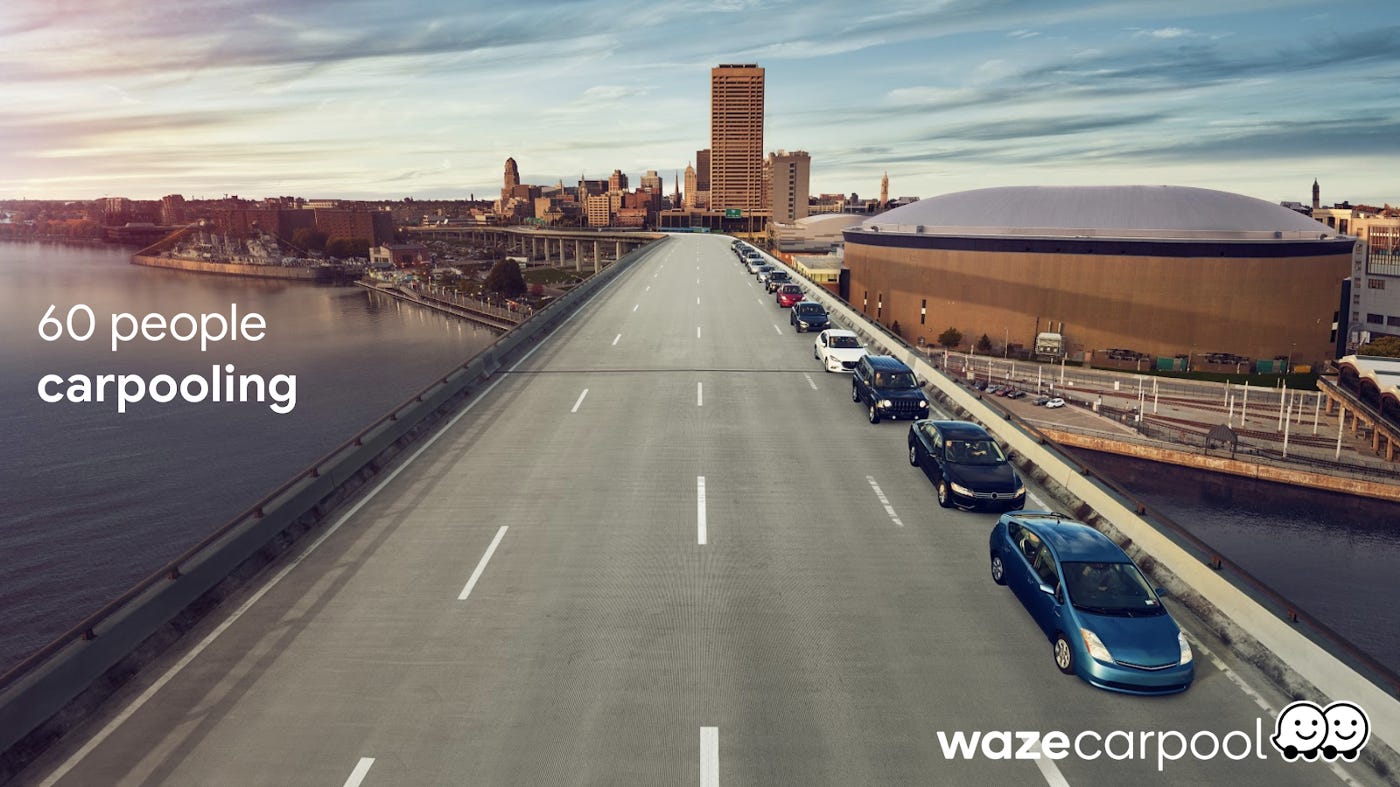 Where does Waze go from here?
Every company in the world, especially companies in the transportation space, are facing some huge hurdles. Most of those companies don't have the backing and resources of Google behind it.
In many ways, the Google acquisition has allowed for the team at Waze to solely focus on its mission of beating traffic together. There isn't the same kind of pressure to create revenue to keep the lights on, but Waze will continue to evolve as a business as well. I think the power of mapping and search are powerful trends Waze and Google together will capitalize on in the long run. They are the best suited to do it.
Mobility and traffic patterns will slowly continue returning to pre-COVID normal levels and I'm excited to see what's Waze comes up with next to help us navigate traffic more efficiently.
What I'm Reading this Week:
The Information: Austin Emerges as a Hot Spot for Silicon Valley Investors
Kate Clark explores why Austin is finally breaking through as a destination for tech investors. Kate does a great job explaining the key dynamics in the city that are leading to this influx.

"Since March, Sapphire Ventures, Draper Associates, 8VC and Breyer Capital have either opened an Austin office, hired a local partner or are considering an outpost there. Austin's lack of a state income tax, plus its lower cost of living, is attracting venture capitalists and entrepreneurs, and a push toward remote work has spurred them to rethink where they live. "

"In the last two years, the influx of big California companies has accelerated, helping to boost the city's population near 1 million. Tesla announced in July that it would build a 2,000 acre Gigafactory near the city. Apple is building its newest campus, a $1 billion location that could employ up to 15,000 workers, in Austin. TikTok is also expected to increase its Austin presence if President Donald Trump approves a deal that would make U.S. investors including Oracle majority owners of a new U.S. TikTok entity."
Bloomberg CityLab: How to Tell If You Live in the Suburbs
"The United States is a land of suburbs, with just one problem: No one's quite clear what a 'suburb' is."

"It's a question of semantics with real-world implications, as government programs, political campaigns and developers try to spend money in the "suburbs," where a majority of Americans say they live despite the category having no formal definition."

New research tries to create a roadmap for determining if an area is suburbs or not.
The Real Deal: Common raises $50M, eyes housing for remote workers
Coliving startup Common raises another round to expand its offerings. Coliving typically involves private bedrooms with shared common spaces and amenities like cleaning services and community events. Coliving companies typically offer short-term leases and you can move between locations. These companies are often in high demand cities and attract tech workers looking for flexibility.

"With its eye on housing for remote workers, co-living startup Common has raised $50 million in new funding. The Series D was led by Kinnevik with participation from existing investors Maveron, 8VC and Norwest Venture Partners, CEO Brad Hargreaves wrote in a blog post Tuesday. The round brings Common's total funding to more than $113 million at a time when urban rental markets are struggling due to the pandemic."

Common is evolving beyond just coliving though and I'm interested to see what that means: "We always had an eye on the bigger vision of making housing better," Common's CEO explained in a Medium post. "The choice to fundamentally reconsider how property management works was a pivotal one, and over the past few years has taken us well beyond co-living."
Bloomberg CityLab: Airbnb's Data 'Portal' Promises a Better Relationship With Cities
We love to see tech companies rolling out products to work with cities more effectively. I'm excited to see how this program evolves and how cities respond.

"When startups go public, a big part of the process is opening up their books and being more transparent about their business model. With global short-term rental giant Airbnb moving towards its own IPO, the company has introduced a new product that seeks to address recent safety concerns and answer the data-sharing requests that critics have long claimed make the company a less-than-perfect partner for local leaders."

"The Airbnb City Portal, which launched on Wednesday as a pilot program with 15 global cities and tourism agencies, aims to provide municipal staff with more efficient access to data about listings, including whether or not they're complying with local laws. Each city, including Buffalo, San Francisco and Seattle, will have access to a new data dashboard as well as a dedicated staffer at Airbnb. Like so many of its sharing economy and Silicon Valley peers, Airbnb has had a contentious, and evolving, relationship with municipalities and local government ever since launching (an especially fraught situation in Europe, as an EU court just ruled in favor of city regulations of the site)."
Thanks as always for reading Urban Tech! Send me a note at john@urbantechnews.net or just reply to this email if you have any feedback. I love hearing from the Urban Tech community.
Have a great weekend.
JT